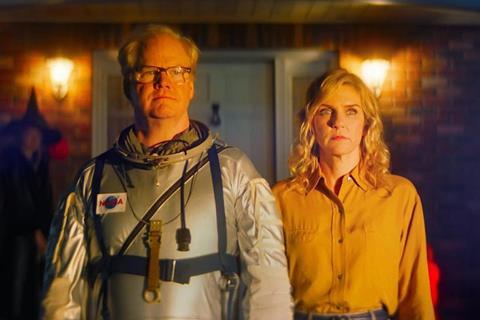 Blue Fox Entertainment has acquired international sales rights to the SXSW sci-fi comedy drama Linoleum starring Jim Gaffigan and Rhea Seehorn which became one of the more admired selections to emerge from the Austin festival in early spring.
Colin West (Double Walker, Survival Skills) directed the Narrative Feature Competition entry in which Gaffigan plays the host of a failing children's science TV show and aspiring astronaut who finds a deep direction to his life after a Space Race satellite crashes into his back yard and he sets about rebuilding the machine into his dream rocket.
As relations with his wife and daughter show signs of strain, odd events occur: a doppelgänger moves into the house next door, a car falls from the sky and the man befriends an unusual teenage boy.
Gaffigan plays a dual role and the cast includes Katelyn Nacon, Gabriel Rush, Amy Hargreaves, Tony Shaloub and Michael Ian Black. Dennis Masel's Storm City Films partnered with Chad Simpson's Brain Scratch Productions and Chadd Harbold as producers.
Blue Fox head of international sales Lisa Gutberlet said, "West has created a film that perfectly blends comedy, emotion, surrealism and magic, with amazing performances led by Jim Gaffigan."
West added, "Our film, while on the outside looking like a sci-fi sprinkled suburban drama, is at its core a love story – and Blue Fox was able to see our vision in that. The whole team, who worked so hard to make this film come to life, is thrilled to be working with them to get our film out to as many international eyeballs as possible."
James Huntsman of Blue Fox Entertainment brokered the deal with UTA Independent Film Group which represents US rights.
The Blue Fox Cannes sales slate includes YA thriller Jane starring Madelaine Petsch, Chlöe Bailey, and Melissa Leo; Second World War thriller Wolves Of War starring Ed Westwick and Rupert Graves; thriller Girl At The Window with Ella Newton and Rahda Mitchell; holiday romance Mistletoe Ranch starring Jordi Webber and Mercy Cornwall; supernatural Second World War horror Bunker; and coming-of-age story Signs Of Love starring Hopper Penn and Dylan Penn.
The company recently launched transactional digital entertainment platform Blue Fox Financing.