French films may be winning the big prizes on the festival circuit but it's a complex story at the box office. French investment obligations for platforms and an overhaul of the media chronology rules could offer some respite.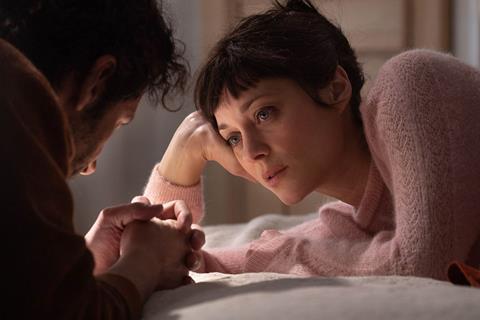 It will be another strong year for French cinema at the 75th edition of Cannes Film Festival (May 17-28), kicking off with the opening zombie comedy Final Cut by Michel Hazanavicius.
In Competition, there are four French features among the 21 Palme d'Or contenders. Overall, 30% of the 70 titles in official selection hail from France, despite festival director Thierry Frémaux's suggestion that he wanted to rein in the number of local films this year.
It is a similar picture in Directors' Fortnight, where more than a third of the films are lead produced by French producers. Even Ava Cahen, the new artistic director of Critics' Week — which deliberately limits the number of local works in its compact line-up to a maximum of four — reported a particularly "rich offering" from France this year.
Prior to Cannes, French cinema was already enjoying a high-profile 2022: Claire Denis' Fire (aka Both Sides Of The Blade) clinched the best director prize at the Berlinale and then Coda won best picture at the Academy Awards. The English-­language remake of French box-­office hit La Famille Bélier was spearheaded by French producers Philippe Rousselet and Fabrice Gianfermi and fully financed by French studio Pathé Films.
This dominance of French cinema on the festival and awards circuit can be explained in part by the fact France was one of the first countries to reopen film sets after the initial pandemic shutdowns of early 2020, thanks to a government-backed insurance scheme and effective industry-formulated hygiene protocols.
According to the annual production report of France's National Cinema Centre (CNC), there was a 75% increase in investment for feature film production in France from traditional sources year-on-year in 2021 to $1.37bn (€1.3bn), which represented a 19% increase on pre-pandemic 2019 levels. At the same time, there was a 43.5% year-on-year increase in the number of feature film productions registered with CNC to 340, against 237 in 2020 and 301 in 2019. The jump was owing to a "catch-up" effect after the difficulties of 2020, CNC suggested.
Box-office lag
In contrast to the awards haul and production boom, it is a very different picture at the French box office, which has yet to recover to pre-pandemic 2019 levels. Preliminary figures released by CNC in early May showed there were 13.9 million admissions in April (for an approximate gross of $99m/€93.5m), which is 23% lower than April 2019. Admissions for the first four months of the year were 34.2% lower than the same period in 2019, 50.7 million admissions in total, for a gross of $362m/€342m.
Even more worryingly for the country's independent producers and distributors, filmgoers are coalescing around studio titles and mainstream local comedies and thrillers, with smaller arthouse films struggling to find an audience.
Against this background, there is one ray of light following France's transposition in late-2021 of the European Union's updated Audiovisual Media Services Directive (AVMSD), amending the bloc's audiovisual laws to fit the digital age. Under its implementation of the directive, streaming platforms operating in the country — including Netflix, Apple TV+, Disney+ and Amazon Prime Video — are now obliged to invest 20% of their local turnover in French and European series and films and non-­fiction programming, split 80% for series and 20% for feature films.
French media regulator Arcom (formerly known as the Conseil Supérieur de l'Audiovisuel, or CSA) has suggested the measure will initially bring in between $211m-$317m (€200m-€300m) in the first year. Netflix, as the global platform with the biggest footprint in France, will account for the lion's share of this amount.
Tied in with transposition of the AVMSD, France's Ministry of Culture sealed a long and hard-fought landmark, three-year accord in January with all the main actors in the film and TV landscape overhauling the country's notoriously strict media chronology laws. Under the update, streaming platforms are now able to show feature films 17 months after their theatrical release compared to 36 months under the previous chronology calendar.
Netflix has negotiated a smaller window of 15 months by signing a three-year deal with all the key producer groups, pledging to invest at least 4% of its French turnover in 10 local films for theatrical release, with a guaranteed minimum total investment of $32m (€30m) a year. Within this figure, 17% of this sum needs to go to films with budgets of less than $4.2m (€4m). French pay-TV giant Canal+, which has historically been the biggest backer of French cinema since its launch in 1984, negotiated a shorter six-month window, from eight months, in return for a guarantee that it would invest at least $201m (€190m) a year in French cinema. OSC, the film- and TV-­focused service of French telecom giant Orange, also brokered a six-month window, pledging an annual investment of $63.4m (€60m).
Although none of the other global platforms have brokered or signed similar accords for now, Warner‑Media, which has yet to launch HBO Max in France, appears to be preparing the ground. Priya Dogra, president EMEA and Asia, signalled in a keynote at Series Mania in March that the company would be upping its investment in French cinema. She said the aim was to produce annually six to eight local feature films across a range of genres aimed at theatrical release in France, and a platform release in the rest of the world.
At Netflix France, where the French film division is run by director of acquisitions Sara May and director of production Gaelle Mareschi, an eclectic slate of French features is already due out this year. They include a number of titles by emerging directors and festival habitués, including Marc Fouchard's Le Roi Des Ombres, reimagining an African folktale in a tough outer suburb of Paris; Romain Gavras' modern tragedy Athena, co-written with Ladj Ly; and Dangerous Liaisons, a contemporary, teenage adaptation of the classic novel that is a first feature for Rachel Suissa.
More mainstream fare includes the second instalment of Guillaume Pierret's action thriller trilogy Lost Bullet and Louis Leterrier's action-comedy The Takedown, reuniting Omar Sy and Laurent Lafitte.
There was a pragmatic endorsement of the need for the French cinema world to work with the global platforms from an unexpected quarter last month, in the shape of Jérome Seydoux, co-chair of the storied Pathé. In an interview with Le Figaro, he talked about how Coda had found a welcome home with Apple TV+ at a time when the pandemic had shut cinemas. "The arrival of the streaming platforms is the third incursion by TV in the history of cinema, after that of the free-to-air broadcaster and pay-TV channels," he said. "But this time, the platforms are global and extremely powerful. They existed before the Covid crisis, but their expansion has accelerated. They now need to be taken into consideration."