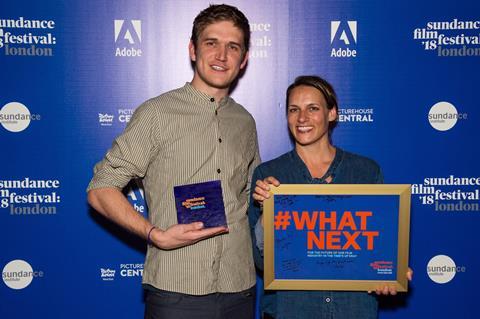 Eighth Grade, Bo Burnham's film about a 13-year old girl navigating friendships in the social media age, won the Audience Favourite award at this weekend's Sundance London film festival.
The film, which had its world premiere at Sundance Film Festival in Utah in January, was voted as the most popular by festivalgoers who attended the Picturehouse Central event from May 31-June 3.
Burnham, who also presented a comedy masterclass called 'Make 'Em Laugh' as part of the festival, was present to accept the award for his directorial debut.
At a post-screening Q&A for Eighth Grade, he said that despite his years working as a stand-up comedian, he feels more comfortable as a director and intends to make further films.
A special #WhatNext prize, in honour of the discussion about creating a fairer film industry that played a major part at the festival, was awarded to Amy Adrion, director of documentary Half The Picture.
In the film, which also had its world premiere in Utah, Adrion talks to many successful women directors including Ava DuVernay, Sam Taylor-Johnson and Kimberley Peirce, about their work, their careers and the continuing fight for equality in the industry.
Sundance London presented 12 feature films from the main 2018 Sundance Film Festival, including Ari Aster's Hereditary, Idris Elba's directorial debut Yardie and Crystal Moselle's Skate Kitchen. Seven of the 12 features at this year's event were directed by women.