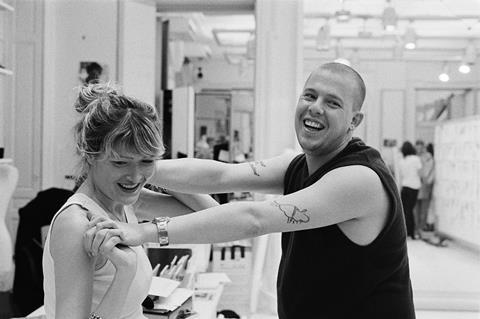 UK documentary festival Sheffield Doc/Fest has unveiled the programme for its 25th edition, which runs from June 7-12 this summer.
Amongst the titles are a screening of McQueen, Ian Bonhôte and Peter Ettedgui's film about the late British fashion designer Alexander McQueen composed of archival footage and personal testimonials.
Last month Sean McAllister's A Northern Soul was announced as the opening night film.
Scroll down for the full list of films in competition
The 2018 official competition jury includes documentarian Mark Cousins, director Sophie Fiennes and artists Liv Wynter and Samson Kambalu. They will distribute awards in the Grand Jury, Environmental, Art Doc, Illuminate, Tim Hetherington and New Talent categories.
Speakers at this year's event in the festival's Talks programme include activist Munroe Bergdorf; classicist and author Mary Beard; TV presenter Trevor McDonald; and actor Vicky McClure.
There will be masterclasses from directors Matthew Heineman (City Of Ghosts), Cousins (I Am Belfast) and Khalik Allah (Black Mother).
The Doc/Question Time event for 2018 will look at the subject of 'Big Data, Dark PR & Whistleblowing', via a panel of whistleblowers, journalists, media lawyers and filmmakers.
Curated by Dan Tucker, the Alternate Realities exhibition will be held at Sheffield's 1930s industrial building Trafalgar Warehouse. Nine virtual reality installations will play to audiences, including Doc/Fest commission Face To Face.
Of the five titles competing for the Grand Jury award (sponsored by Screen and sister publication Broadcast), four are UK premieres, including Talal Derki's Of Fathers And Sons, in which the director gains access to the world of minesweeper Abu Osama, who is raising his sons to be Jihadi fighters.
Also in this section is the UK premiere of Bernadett Tuza-Ritter's A Woman Captured, which follows 53-year-old domestic slave Marish as she prepares to break free from her captor Eta.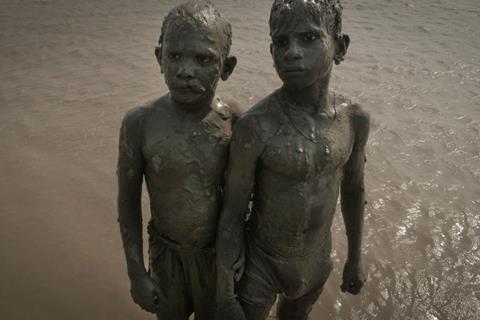 Amongst the festival's 37 world premieres are Astra Taylor's What Is Democracy in the Grand Jury section; Nicolás Molina's Flow in the Environmental section; Richard Miron's For The Birds in the New Talent category; and Stefan Stuckert's Against The Tides in the New/UK grouping.
Having it's world premiere in this latter group is Ben Anthony's Grenfell, filmed in the year since the tragedy and featuring people whose lives were changed by the event. There will also be a Mobile VR project called Grenfell: Our Home, as one of the ten nominees for the Virtual Reality award in the Alternative Realities exhibition; and a discussion session entitled 'Documenting Grenfell: A Problem in Plain Sight' hosted by Channel4's Siobhan Sinnerton.
The country focus this year is on Lebanon, with four feature- and two mid-length films taking in contemporary Lebanese documentary cinema.
The 2018 event also includes three festival commissions to celebrate the 25th edition, including 20,000 Days On Earth directors Iain Forsyth and Jane Pollard's video installation Doublethink, performed by George MacKay.
The festival will close with an awards ceremony hosted by BBC Radio Sheffield's Paulette Edwards.
Commenting on the festival's first quarter-century, Liz McIntyre, festival director and CEO, said: "Stories abound at Doc/Fest that question anew what power we each hold or lack politically, socially and in our personal and professional relationships. Doc/Fest 2018 is alive with a new wave of diverse filmmakers responding to these extraordinary times and disrupting the status quo."
Films in Competition
Grand Jury Award
A Woman Captured (UK premiere; Hungary, 2017, dir. Bernadett Tuza-Ritter)
Hale County This Morning, This Evening (UK premiere; USA, 2018, dir. RaMell Ross)
Of Fathers and Sons (UK premiere; Germany/Lebanon/Qatar/Syria, 2017, dir. Talal Derki)
What Is Democracy? (World premiere; Canada, 2018, dir. Astra Taylor)
The Silence of Others (UK premiere; Spain/USA, 2018, dir. Almudena Carracedo, Robert Bahar)
Environmental Award
A Journey to the Fumigated Towns (UK premiere, Argentina, 2018, dir. Fernando Solanas)
Ex-Shaman (UK premiere; Brazil, 2018, dir. Luiz Bolognesi)
Flow (World premiere; Chile, 2018, dir. Nicolás Molina)
Into The Okavango (International premiere; USA, 2018, dir. Neil Gelinas)
When Lambs Become Lions (International premiere; Kenya/USA, 2018, dir. Jon Kasbe)
Wild Relatives (UK premiere; Lebanon/Norway/Germany, 2018, dir. Jumana Manna)
Art Doc Award
Black Mother (UK premiere; USA, 2018, 77 min, dir. Khalik Allah)
Music When The Lights Go Out (UK premiere; Brazil, 2017, dir. Ismael Caneppele)
Obscuro Barroco (UK premiere; France/Greece, 2018, dir. Evangelia Kranioti)
The Gospel of Eureka (International premiere; USA, 2018, dir. Michael Palmieri, Donal Mosher)
The Task (International premiere; USA, 2018, dir. Leigh Ledare)
Turtle Rock (UK premiere; China, 2017, dir. Xiao Xiao)
Illuminate Award
América (UK premiere; USA, 2018, dir. Erick Stoll, Chase Whiteside)
Ghosthunter (International premiere; Australia, 2018, dir. Ben Lawrence)
The Dread (UK premiere; Argentina, 2017, dir. Pablo Aparo, Martín Benchimol)
The Pain of Others (UK premiere; USA, 2018, dir. Penny Lane)
Time Trial (UK premiere; UK, 2017, dir. Finlay Pretsell)
Young Solitude (UK premiere; France, 2018, dir. Claire Simon)
Tim Hetherington Award
Central Airport THF (UK premiere; Germany/France/Brazil, 2018, dir. Karim Aïnouz)
Commander Arian (European premiere; Germany/Spain/Syria, 2018, dir. Alba Sotorra)
Kinshasa Makambo (UK premiere; Democratic Republic of Congo/France/Switzerland/Germany/Norway, 2018, dir. Dieudo Hamadi)
Laila at the Bridge (UK premiere; Canada/Afghanistan, 2017, dir. Elissa Mirzaei, Gulistan Mirzaei)
On Her Shoulders (European premiere; USA, 2018, dir. Alexandria Bombach)
The Waldheim Waltz (UK premiere; Austria, 2018, dir. Ruth Beckermann)
Youth Jury Award
Amal (UK premiere; Denmark/Egypt/France/Germany, 2017, dir. Mohamed Siam)
Lost Warrior (UK premiere; Denmark, 2017, dir. Søren Steen Jespersen, Nasib Farah)
Our New President (UK premiere; USA, 2018, dir. Maxim Pozdorovkin)
Over the Limit (UK premiere; Poland/Germany/Finland, 2017, dir. Marta Prus)
Shirkers (UK premiere; USA, 2018, dir. Sandi Tan)
Tranny Fag (UK premiere; Brazil, 2018, dir. Kiko Goifman, Claudia Priscilla)
New Talent Award
Doel (International premiere; 2018, Denmark/Belgium, dir. Frederik Sølberg)
For The Birds (World premiere; USA, 2018, dir. Richard Miron)
Minding the Gap (UK premiere; USA, 2018, dir. Bing Liu)
The Distant Barking of Dogs (UK premiere; Denmark/Finland/Sweden, 2017, dir. Simon Lereng Wilmont)
The Game (International premiere; France, 2018, dir. Marine de Contes)
The Proposal (European premiere; USA/Mexico/Switzerland, 2018, dir. Jill Magid)