EXCLUSIVE: Caper comedy by Pia Sukanya is scheduled for release in first half of 2016.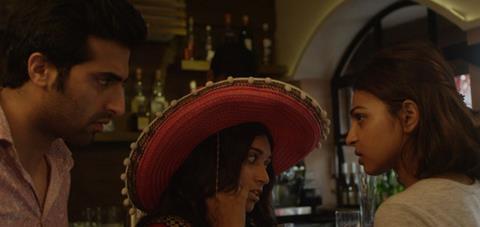 Bombairiya, starring Radhika Apte, Akshay Oberoi and Siddhanth Kapoor, is set to start its third and final schedule of the shoot in mid-December after it was interrupted by an industry strike and a non-film-related injury that Kapoor suffered at home last month.
Set in modern-day Mumbai, the film is shooting on location, with 70% outdoor locations. The final leg will start on December 11 for 12 days, bringing the total shoot to 46 days. The domestic release is scheduled for the first half of 2016.
The Hindi and English-language caper comedy is the latest Bollywood film featuring a female director and female lead. Produced by UK and Mumbai-based Beautiful Bay Entertainment, it is the first feature film of director Pia Sukanya.
"Hero kaun hai? (Who's the hero?) was the standard Bollywood question asked when a new film was being discussed," says Beautiful Bay's Mumbai-based producer Michael Ward. "However, in the last couple of years, the Hindi heroines have proven they can manage perfectly well without the boys."
Ward said the new trend towards bigger commercial films with clearly defined female leading roles, directed by a female director, started in earnest with Gauri Shinde's debut feature English Vinglish which generated $18m from a budget of $2.3m in 2012.
Zoya Akhar and Reema Kagti are also among the most commercially successful female directors for female-centric films. These films are getting a much wider appeal as a counter-reaction to action films with male superstars.
Meanwhile, Beautiful Bay is unveiling a new project The Poacher, directed by Noble Thief's Suman Ghosh and produced by Colin Burrows, at the Film Bazaar's Co-Production Market.
For its future slate, Beautiful Bay has acquired rights to three period novels: Sujit Saraf's The Confession of Sultana Daku, Sudhira Bhagat's Acushla and M. M. Kaye's The Far Pavilions. It has also set its eye on a remake of a female-centric Japanese film for the Indian market.