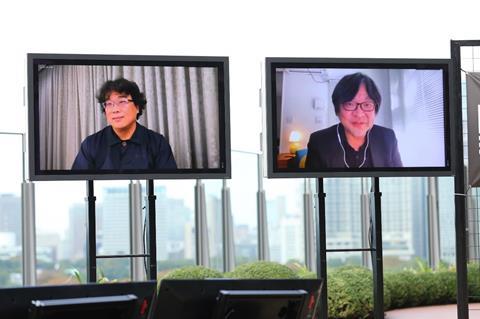 This year's Tokyo International Film Festival (TIFF, October 31-November 8) wrapped up its series of talks between filmmakers from Japan and around the world, the Conversation Series at Asia Lounge, with an online chat between Bong Joon-ho and Mamoru Hosoda.
It clearly wasn't the first time the two filmmakers had spoken, and their friendly chat focused on topics like Hosoda's recent film Belle and Bong's Academy Award-winning Parasite, as well as his upcoming projects.
The fact that both filmmakers were participating online was a reflection of their busy schedules: Bong reported that he is currently in Los Angeles prepping an English-language film that he "plans to start shooting early next year." Meanwhile, Hosoda was back in Japan, but quarantining after promoting Belle in Europe and the US.
The two filmmakers spent the most time talking about Bong's other upcoming project: an animated feature. The news that Bong is now working in animation was a thrill for Hosoda, the anime master behind films like Summer Wars and the Oscar-nominated Mirai.
Bong explained that the inspiration for the project came from a book about deep-sea creatures. "The photos are so beautiful. These creatures live 24/7 without any sunlight reaching them. Though they live on the same planet as us, we don't normally come in contact with them. But in my film, through a certain incident, they meet humans, and that's where the story kicks off," said Bong.
Asked by Hosoda about what techniques he will use to animate the film, Bong explained that he'll use CGI, building off his experience creating creatures for The Host and Okja, but attempt to create "a tone that people have never seen before … one that looks hand-made, like something you want to reach out and touch."
Veteran animator Hosoda praised the idea, saying that "the dilemma for seasoned animators is that we're sometimes too reliant on the on the accepted ways of making animation. Because you're coming at it from a different background, you may be able to break through and create something new."
The conversation also turned to the ways Hosoda himself is trying new things, especially with his latest film, Belle. A large part of the film takes place in an online world, where people from all over the world meet up. For that reason, the director explained, he wanted to incorporate designs and animation methods from around the world, taking advantage of social media to recruit designers, animators and even architects from places like London, Texas, Ireland and Los Angeles.
"It feels like a way of doing things born out of the pandemic," said Hosoda. "In the world of animation, we tend to categorise films into 'Japanese animation,' 'American animation' and so on, but going forward, we might be able to cross borders to create something totally new."
Bong agreed, but added that "the reason you could successfully blend all those elements, and weren't overwhelmed by them, was because you're such a strong director with a clear vision."
Both directors also touched on how focusing on personal themes that can generate films that have a universal impact. Parasite, Bong said, "was my most personal film yet." The director imagined the film would only work with a South Korean audience, if anyone, but it ended up going all the way to the Oscars.
Hosoda agreed, saying that his films, which often centre around families, also come from a personal place. "I just write about things like how hard it can be to communicate with your spouse or children," he said. "But those 'close to home' concerns can end up resonating with people from around the world."
Finally, to close out this film festival, the two directors talked about their experience at film festivals, including TIFF.
"When I first started going to film festivals about 15 years ago, that's when I realised I was a 'Japanese filmmaker,'" said Hosoda. "I'd never really thought about things from that perspective before."
Meanwhile, Bong related a TIFF memory from 21 years ago: Barking Dogs Never Bite, his debut film, hadn't done well in South Korea, but when it played at the Tokyo festival, "the cinema was full, and people enjoyed the film," said Bong. "I was depressed, but that screening really cheered me up."