Iniative kicks off as film festivals continue to asses the merits of co-production markets.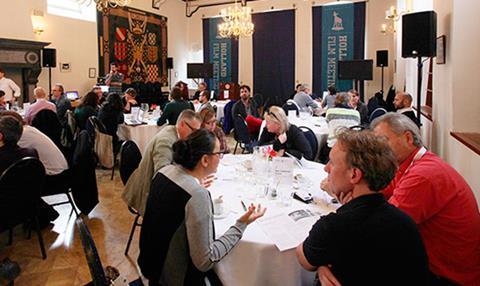 Boost NL, the new collaborative project between the Holland Film Meeting (HFM, Sept 22-25) and the International Film Festival Rotterdam's CineMart, is launching officially this week at the HFM, which began today at the Nederlands Film Festival in Utrecht
The idea behind the initiative, which will continue at the IFFR's Cinemart next January, is not just to help Dutch projects but to assist further a number of projects that have already received support from IFFR's Hubert Bals Fund or have been presented at CineMart.
Speaking to Screen, HFM chief Vanja Kaludjercic gave further details of the "enhanced coproduction experience" offered to the selected projects.
"Some things cannot be achieved in only three days of the event itself so what we have created is an extended trajectory," Kaludjercic said of the new Utrecht/Rotterdam axis. The intention is both to address the immediate needs of a project and to anticipate what those needs might be "five months in."
Participating projects
Among the films benefiting is Brazilian title Mormaço by Marina Melinda. This is at a work in progress stage, too early to be shown to buyers or festivals but, through Boost NL at the HFM in Utrecht, it will be shown in a closed screening to a handful of professionals.
The film-makers will also receive expert advice about how to market the film. Then, in five months time, a more advanced cut of the film will be screened to buyers and festival directors in Rotterdam.
Other projects at a less advanced stage will receive expert support in everything from script development to financing and structuring coproductions.
There are films from some very well known directors in the selection. For example, Sacha Polak (Zurich) will be presenting her new project Jade, produced by Marleen Slot of Viking Film. The film is about a young mother from London. Alienated from her daughter after an acid attack that leaves her facially disfigured, she finds comfort in a hedonistic party lifestyle and in anonymous internet sex. This will be brought to the attention of financiers, sales and distribution partners in Utrecht - and will also participate in CineMart early next year.
Evolving markets
Boost NL has been launched at a time when several festivals are assessing just what purpose traditional co-production markets still serve and how they should best evolve. HFM, the Sarajevo Film Festival, Cinelink, IFFR's CineMart and the Cannes Marché are all holding "think tanks" to debate these issues - and are due to present their findings to the industry and pubic next year.
As Kaludjercic notes, there are now an inordinate number of co-production markets worldwide and not all of them serve the industry effectively. She sees Boost NL as an example of the kind of new initiative which will make such markets more useful and relevant for attendees.
"What we see as a necessity is to diversify and recalibrate," she says, adding that it is a particular priority to help young filmmakers working on their first features.
Co-Production Platform
Alongside Boost, the HFM is also hosting its usual Co-Production Platform at which a range of feature projects are pitched and presented to Dutch and International film industry professionals.
One eyecatching title is Irish teen comedy Bags And Trev Get Dates For The Debs, written by Gavin Burke and to directed by Rob and Ronan Burke. The film, produced by John Wallace through Black Sheep Productions, already has Irish Film Board support as well as Element Pictures as a distributor.
The highest budget project being presented is Molly, the latest feature from British writer-director Sally Potter (Orlando). Produced through Adventure Pictures, the $8.7m (€7.8m) film already has BBC Films and BFI backing. Kurban Kassam, who is producing alongside Christopher Sheppard, will be representing the project in Utrecht.
There is already evidence that the revamped HFM is attracting industry delegates and guests who wouldn't previously have come to Utrecht. Among the attendees are Oscar-winning director Danis Tanovic (No Man's Land) as well as writer-director Lucile Hadzihalilovic and renowned Romanian screenwriter Razvan Radulescu (who will be giving script advice to Boost participants) and a host of prominent sales outfits, among them Wild Bunch, Memento and Kinology.
Bobby Allen from Mubi will also be attending. He will be one of the delegates, alongside Claire Beswick (Curzon Cinemas) and Jean-Baptiste Babin (Backup Media Group). on Saturday's panel, Commercialising The Arthouse Model, which will explore how the numbers can be made to work for indie/European films in an era of new platforms and releasing patterns.
The Holland Film Meeting is the international section of the Netherlands Film Festival, the annual platform for Dutch cinema. Kaludjercic has revealed that the long term goal is to have the "international and national programmes integrated in a much more substantial way" and has hinted that the two events may eventually merge.
Kaludjercic comes to HFM having worked as head of industry at Les Arcs European Film Festival, CPH: DOX and at the Sarajevo Film Festival.