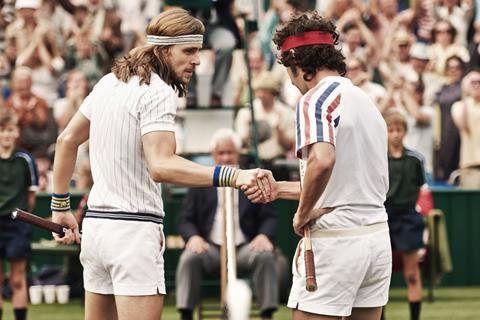 Janus Metz, whose debut film Borg/McEnroe opened the Zurich Film Festival (Sept 28-Oct 8), spoke to Screen during the event about his upcoming film projects, distribution challenges and the positive impact of Netflix.
His follow-up to Borg/McEnroe is Dangerous Ground, produced and financed by Sierra/Affinity and based on the true story of war veteran Johnnie Porche, who returned home to find himself entangle din a feud with a drugs cartel.
Metz said of the project: "We're still developing it, still on the script phase. It's a story that has great promise but we need to do some more work on the script. It's a story that is very character-driven, it's very much about a guy who is trying to find a way in life and a sense of appreciation and meaning."
"Somehow I tend to come back to those stories," he added. "It resonated with me on a personal level I guess. It's a new realisation for me. All my films, whether they are about Thai mail-order brides, soldiers or tennis players somehow revolve around the same axis."
He also said that he's considering "a couple" of other projects. "Everything in this industry is so fluid and changes all the time, [so] let's see which project comes together in the best way."
Distribution challenges
Metz said the biggest challenge releasing SF Studios' Borg/McEnroe, which stars Sverrir Gudnason and Shia LaBeouf as the titular Tennis rivals, is convincing people it's not just a sports film.
"Not many people see sports movies," he said. "I think our film is a psychological drama and an existential film, and so to get the message out there that the film is interesting not just because of Borg and McEnroe is something at the front of my agenda."
"At the moment its getting the recognition I was hoping for, it is seen as a quality movie that is not just a popcorn flick for a Saturday. It's found its home with the right distributors and the right audiences."
Netflix
Metz also discussed the challenges and benefits of Netflix and Amazon entering the film production and distribution space.
"I think it's important to have a theatrical release. For me movie theatres are like the churches of cinema. I like to see my own films in theatres.
"[But] I do think the power of HBO and Netflix and other streaming services have also been positive in many ways because I'm seeing an awareness about quality in filmmaking right now that if you went back ten years [wasn't there].
"Audiences are now educated on quality. The great writing and talent [in TV] has spilled back in the film industry. [Filmmakers] really have to up their game now. You have a powerful sense of storytelling and sense of image production that really is the golden age of storytelling."
"If you look at the films that have won the academy awards in the past couple of years, it's been very quality-driven and story-driven. You look at a film like Moonlight or Manchester By The Sea, or La La Land, I don't think you would've seen these films win in the Oscars ten years ago. These are beautifully crafted and definitely not mainstream."