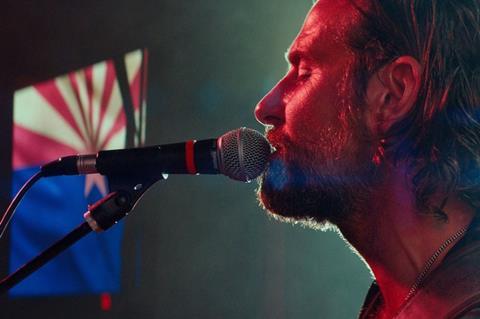 A Star Is Born, Bradley Cooper's directorial debut starring Cooper and Lady Gaga, will have its world premiere out-of-competition at the 75th Venice International Film Festival (August 29 – September 8).
The film, co-written and produced by Cooper, will screen on Friday August 31 in the Sala Grande at the Palazzo del Cinema on the Venice Lido.
Featuring original songs performed by Cooper and Gaga, the musical drama is a remake of William A. Wellman's 1937 film of the same name; it was previously remade in 1954 and 1976.
The love story follows musician Jackson Maine (Cooper) and struggling artist Ally (Gaga) through the tribulations of their relationship as their careers follow different trajectories.
The ensemble cast includes Andrew Dice Clay, Dave Chappelle and Sam Elliott, with musical collaborations with Lukas Nelson, Jason Isbell and Mark Ronson.
Last week Damien Chazelle's space race drama First Man was announced as the opening film of the festival. It stars Ryan Gosling as Neil Armstrong; the film marks Chazelle's return to Venice after opening the 2016 festival with La La Land.