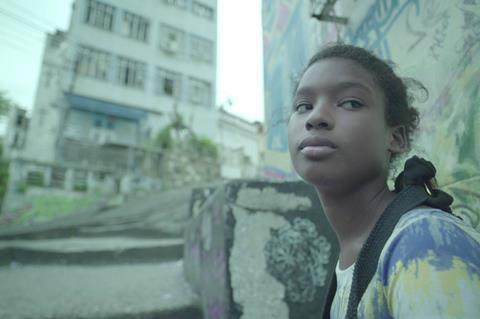 Brazilian production Pacified (Pacificado) by US director Paxton Winters won the top award at the San Sebastián International Film Festival, at the ceremony held on Saturday, September 28.
With Darren Aronofsky as a producer, the film is set in a favela in Rio de Janeiro.
The jury, led by Irish filmmaker Neil Jordan, also awarded Pacified the Silver Shell for best actor to Bukassa Kabengele and the Jury prize for best cinematography to Laura Merians.
Paxton Winters, a reporter and filmmaker, got to know life in the favelas he portrays living there before he tackled Pacified. According to Winters, his film "tries to avoid stereotypes in the portrayal of violence, to not show it as something sexy, and to focus instead on the perspective of the people who experience it every day".
Spanish-French production The Endless Trench (La Trinchera Infinita) picked up four prizes. Directed by the Basque trio Aitor Arregi, Jon Garaño, and Jose Mari Goenaga (the creative team behind previous San Sebastián premieres Handia and Loreak), the film won the best director, best screenplay and best Basque film awards, as well as the Fipresci prize.
One of the two films in this year's competition dealing with the Spanish Civil War alongside While At War by Alejandro Amenábar, The Endless Trench centres on the aftermath of the conflict and recreates the little-known story of the people in Spain who lived in hiding in their own homes for more than 30 years in order to escape being executed by the Franco regime. It stars Antonio de la Torre (The Kingdom) and Belén Cuesta (Holy Camp!).
The Silver Shell for best actress was shared by German actress Nina Hoss for her performance as a violin teacher in mid-life crisis in Ina Weisse's The Audition; and Greta Fernández for A Thief's Daughter, a Spanish production by first time director Belén Funes.
Alice Winocour' astronaut drama Proxima, starring Eva Green, won the Special Jury award.
The Audience Aaward went to Olivier Nakache and Éric Toledano's Cannes 2019 closer The Specials (Hors Normes); while the audience award for best European film was won by Ken Loach's Sorry We Missed You.
The closing gala followed a ceremony the previous night in which Penélope Cruz was awarded the honourary Donostia award. As a surprise for Cruz, the award was presented by her friend Bono, lead singer of the rock group U2.
A visibly-moved Cruz then gave a speech thanking the festival and taking the opportunity to raise a voice against violence against women.
San Sebastián 2019 winners
Golden Shell for Best Film: Pacified, dir. Paxton Winters (Bra)
Special Jury Prize: Proxima, dir. Alice Winocour (Fr-Ger)
Silver Shell for Best Director: The Endless Trench, dir. Aitor Arregi, Jon Garaño, Jose Mari Goneaga (Sp-Fr)
Silver Shell for Best Actress: Nina Hoss, The Audition (Ger-Fr); Greta Fernández, A Thief's Daughter (Sp)
Silver Shell for Best Actor: Bukassa Kabengele, Pacified (Bra)
Jury Prize for Best Cinematography: Laura Merians, Pacified (Bra)
Jury Prize for Best Screenplay: Luiso Berdejo and Jose Mari Goenaga, The Endless Trench (Sp-Fr)
Kutxabank-New Directors Award: Some Beasts, dir. Jorge Riquelme (Chi)
- Special Mention: Sestra, dir. Svetla Tsotsorkova (Bul-Qat)
Horizontes Award: Again Once Again, dir. Romina Paula (Arg)
- Special Mention: La Bronca, dir. Diego Vega, Daniel Vega (Peru-Col)
Zabaltegi-Tabakalera Award: I Was Home, But, dir. Angela Schanelec (Germany/Serbia)
- Special Mention: Isadora's Children, Damien Manivel (Fr-S. Kor)
Audience Award: The Specials, dir. Olivier Nakache, Éric Toledano (Fr)
Audience Award for European Film: Sorry We Missed You, dir. Ken Loach (UK-Fr-Ger)
Irizar Basque Film Award: The Endless Trench, dir. Aitor Arregi, Jon Garaño, Jose Mari Goneaga (Sp-Fr)
- Special Mention: Glittering Misfits, dir. Iban del Campo (Sp)
Ezae Youth Award: The Good Intentions, dir. Ana Garcia Blaya (Arg)
Fipresci Award: The Endless Trench, dir. Aitor Arregi, Jon Garaño, Jose Mari Goneaga (Sp-Fr)