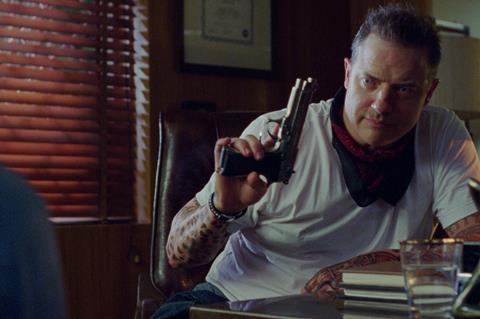 Gravitas Ventures has picked up North American rights from Moonrise Pictures to New Delhi-set crime thriller Line Of Descent starring Brendan Fraser.
Abhay Deol (Manorama Six Feet Under), Ronit Roy (Udaan), Neeraj Kabi (Ship Of Theseus), and Max Beesley (Homeland, Suits) also star in the story about three brothers who feud over the direction of the family business after their mafia boss father dies.
Fraser plays a boisterous arms dealer who sees the family's dysfunction as an opportunity to grow his personal business.
Rohit Karn Batra wrote and directed Line Of Descent, which Gravitas Ventures will open theatrically and on demand in North America on December 13.
Batra said, "Line Of Descent is a tragic case study of cardinal sins bending the arc of human purpose. As the director, I was interested in exploring a dark story within the gangster genre in India, and I could haven't asked for better performances from our talented Indian cast.
"Brendan Fraser has also driven home a career-best performance as the very insane, scary and funny arms dealer caught up in this family mess. You've never seen him like this before and audiences are in for a very special treat."
"By relocating the setting, Rohit has given a classic crime saga framework a fresh spin, integrating cultural elements that introduce new sources of suspense," said Tony Piantedosi, Gravitas Ventures, vice-president of acquisitions.
Piantedosi negotiated the deal with Colette Aguilar of Moonrise Pictures. Gravitas Ventures' recent releases include California Typewriter, All Things Must Pass, and Being Evel.