SEPTEMBER 26 UPDATE: Sony's The Magnificent Seven rides to $19.2m from 63 markets; Warner Bros' Storks lands with $18.6m from its 33 markets.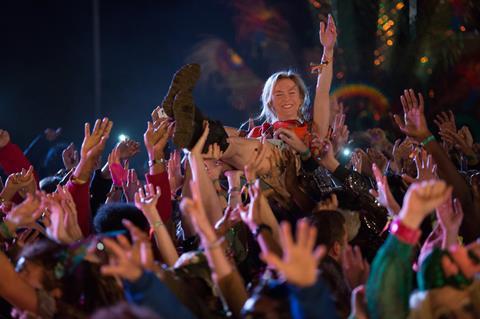 UNIVERSAL PICTURES INTERNATIONAL
UPDATE: Bridget Jones's Baby delivered a $22.1m second weekend overseas from its 47 territories for $67.4m to date.
The Working Title production, presented by Universal, Miramax and Studiocanal, opened in eight new territories with Italy providing the best debut at $1.9m, while the UK provided a terrific $8.4m second weekend for $27.6m after only ten days in play.
Australia added $2.1m for an 11-day tally of $7.8m and the threequel retained the top spot in the Netherlands with $1.1m and a local tally of $3.6m. It opens in Brazil, South Korea and Malaysia next weekend.
Landing in Poland with a chart-topping $1.7m, The Secret Life Of Pets hopped to an additional $9m from its 57 territories for $457.4m overseas and $821.7m globally.
Universal Pictures and Illumination Entertainment's hit animation reclaimed top spot in Australia with a $2.6m third weekend for $13.5m, and has two more territories to release: South Africa next weekend and Italy on Oct 6.
Kubo And The Two Strings sailed to $2.1m from its 27 territories for $12.9m, following a $924k debut in France which marks the second biggest for Laika in the territory. It opens in Belgium next weekend.
The Purge: Election Year and Jason Bourne stand at $36.2m and $236.8m, respectively, ahead of their final international openings over the next fortnight.
SONY PICTURES RELEASING INTERNATIONAL
The Magnificent Seven rode to an estimated $19.2m from its 63 markets for an early $24.8m.
The western remake, which MGM and Columbia Pictures co-financed, enjoyed its best debut in the UK with $2.6m to chart second, followed by a chart-topping $1.8m bow in Russia and a number two opening of $1.4m in Germany.
In its second weekend in South Korea, it added $1.1m for $6.7m to date, while it also posted $1.1m openings in Brazil and Spain. The Magnificent Seven grossed $4.3m from 606 IMAX sites worldwide, with $1.4m coming from 234 sites overseas.
Antoine Fuqua's remake opens in France and Australia next weekend.
With no new openings, Don't Breathe scared up an additional $4.3m from its 34 markets for $39.2m to date. It recorded a $705k second weekend in Mexico for $2.4m and a $610k third weekend in Germany for $3.4m.
Sausage Party has now grossed $26.5m ahead of releases in Brazil, Germany, Mexico and Spain in the first week of October.
WARNER BROS PICTURES INTERNATIONAL
UPDATE: Opening in 33 international markets day-and-date with its North American bow, Storks enjoyed an $18.6m overseas debut.
China led the way with a $5.2m opening from 6,100 screens to chart second behind local title A Chinese Odyssey: Part Three, while the animation opened top in the likes of Mexico ($2.5m), Russia ($1.7m) and Brazil ($1.5m).
Next weekend, it opens in Spain, followed by the UK and France on Oct 14.
Sully took a further $6.8m from its 45 territories for $35m so far, posting a strong $2.2m debut in Japan from 360 screens. In Australia, it fell only 22% with a $1.3m third weekend for $6.8m. It opens in South Korea next weekend.
Suicide Squad and War Dogs stand at $413.7m and $34.4m, respectively. The latter arrives in Germany next weekend.
CHINESE TITLES
Currently playing in six territories, A Chinese Odyssey: Part Three grossed an estimated $6m in its second weekend of release for $48.4m to date, according to ComScore.
David Lam's action thriller sequel S Storm shot to an extra $5.3m from its six territories for $28.25m, while romantic drama Soulmate enjoyed a $5.2m second weekend for $20m so far in China.
Cock And Bull stands at $17.4m following a $3.15m second weekend from its three territories, as Chibi Maruko-chan: The Boy From Italy posted a Chinese bow of $2.7m.
WALT DISNEY STUDIOS MOTION PICTURES INTERNATIONAL
Finding Dory is now the third highest grossing film of 2016 to date worldwide with a global haul of $969.8m, which also makes it the sixth biggest animation of all time.
Overseas, Pixar's latest swum to $5.3m from its 14 territories for $485.6m. This weekend saw it retain the top spot in Italy for a local tally of $11.7m, ahead of its final international releases in Germany, Austria and Switzerland next weekend.
With no new openings, Pete's Dragon flew to an extra $2.9m from its 30 territories for $47.5m overseas. It lands in Brazil, South Korea and Norway next weekend.
LIONSGATE
Ahead of its opening in Mexico next weekend, Blair Witch uncovered $4.7m from its 48 markets for an early $11.5m. Brazil is currently the leading market with $2.4m.
Nerve raced to an extra $3.6m from its 61 markets for $35.6m to date. It opens in Belgium on October 5.
STX ENTERTAINMENT
Opening in four new markets, raunchy comedy Bad Moms partied to an estimated $4.6m from its 58 markets for $53.6m to date.
Germany was the best new debut with a chart-topping $2.6m from 448 sites, followed by Austria on $520k from 60 site to also land top spot. The UK fell 37% on its way to a $420k fifth weekend for a local tally of $10m.
SOUTH KOREA
The Age Of Shadows retained top spot in South Korea with an estimated $4m third weekend for $51.1m so far.
Warner Bros Korea's first Korean-language production, in association with Harbin Films, was chosen as South Korea's Oscar submission.
PARAMOUNT PICTURES INTERNATIONAL
Ahead of its release in Italy next weekend, Ben-Hur travelled to another $3.3m from its 40 markets for $60.2m to date.
Paramount-MGM's remake posted a $1.6m second weekend in South Korea for $8.8m and added $467k in France for $3m after three weeks in play. It opens in China on Oct 10.
Star Trek Beyond phased to $1.6m from its 29 markets for $177.8m, following a $1.1m fourth weekend in China for $64.2m. Its final release comes in Japan on Oct 21.
SEVILLE INTERNATIONAL
Xavier Dolan's It's Only The End Of The World opened with an estimated $2.2m in France, according to ComScore.
The film was picked as Canada's Oscar submission last week.
FOX INTERNATIONAL
Currently playing in 12 markets, Ice Age: Collision Course is now up to $340.9m.
Morgan stands at $4.1m ahead of its release in France next weekend, while Mike And Dave Need Wedding Dates and Independence Day: Resurgence have grossed $30.5m and $284.9m, respectively.
Next weekend, Tim Burton's Miss Peregrine's Home For Peculiar Children opens its doors in 66 markets.