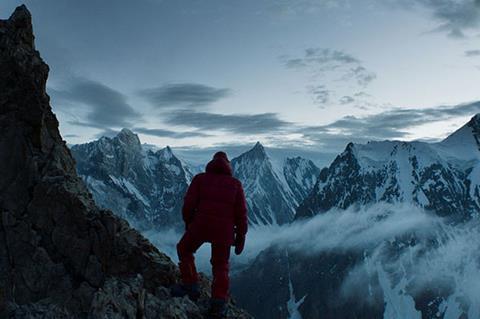 This year's Polish Days, the industry event of Wroclaw-based New Horizons Film Festival, wrapped yesterday with the presentation of the key industry prizes.
Presented for the first time this year, Screen International collaborated with Polish Days to hand out an award to the best project in the Works-in-Progress showcase, with the winner decided upon by attending Screen delegates.
The inaugural prize was given to Broad Peak, Leszek Dawid's highly ambitious mountaineering film which is part-way through shooting. The film is based on real life events and tells the story of a group of Polish mountaineers trying to scale the second-highest peak in the Karakoram mountain range.
After producer Maciej Rzączyński of Warsaw-based East Studio presented some highly impressive footage, the team discussed how they had eschewed the green screen route and instead shot at the base of K2 and at the Broad Peak, which is more than 5,000 meters above sea level. They claimed to be the first crew to ever make a full-length feature film at such a high altitude and in such dangerous and inaccessible conditions for filmmakers.
It has as budget of €3,865,000 ($4.3m), which it is still completing, and has already shot a good amount of footage, but will return in early 2020 to the mountain to complete filming. It is expected to be delivered in 2021 and has no sales agent attached at present.
Broad Peak will now benefit from coverage on Screen throughout its life cycle, from production to its expected future debut at a film festival.
Attending delegates noted the overall quality of this year's Works in Progress projects.
After the showcase, industry also heaped praise on Marcin Bortkiewicz's Tonia, a quirky low-budget Polish comedy that could be charming if it hits the rights notes (no sales agent); Maciej Pieprzyca's Icarus. The Legend Of Mietek Kosz, a completed biopic of the titular Polish jazz pianist that was singled out for its scope and appealing story (sold by Intramovies); Kuba Mikurda's intriguing documentary Escape To The Silver Globe, telling the story of a never-completed big budget Polish sci-fi film from the 1970s directed by legendary Polish filmmaker Andrzej Żuławski, who died in 2016 (no sales agent); and Christos Nikou's Greek-Polish feature Apples (Mila), which could follow in the footsteps of other notably offbeat Greek comedies (no sales agent).
Elsewhere at this year's Polish Days, the ColorOffOn Film Postproduction Award went to director Jagoda Szelc and producer Łukasz Długołęcki's ecological thriller Delicate Balance Of Terror, which was presented in the pitching showcase. The prize covers 50% of post-production costs up to the value of 30,000 PLN ($7,733).
Julia Marcell's Skull Echo, produced by Natalia Grzegorzek, was given the Polish Film Institute scholarship for the EAVE 2020 Producers Workshop after being presented in Polish Days' one-on-one meetings. The scholarship is worth 30.000 PLN ($7,733) and is provided by the Polish Film Institute.