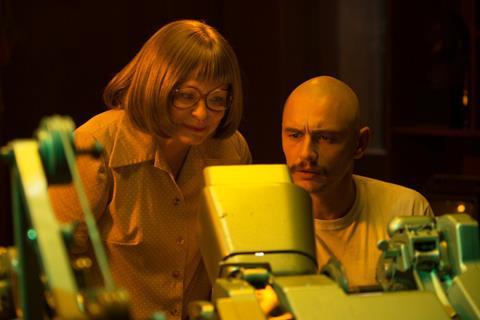 The San Sebastian film festival (September 20-28) has announced seven more titles that will compete for the 2019 Golden Shell award.
They include the long-delayed Zeroville directed by James Franco, who won the Golden Shell in 2017 for The Disaster Artist, and films by Louise Archambault, Guillaume Nicloux, José Luis Torres Leiva, Ina Weisse, Adilkhan Yerzhanov and David Zonana.
Zeroville is based on Steve Erickson's novel about the changing Hollywood of the late 60s and stars Franco, Megan Fox, Seth Rogen, Will Ferrell, Jacki Weaver and Dave Franco.
The film was completed in 2015 but never released after its domestic distributor Alchemy filed for bankruptcy soon afterwards. Digital content distribution service MyCinema picked up US distribution rights to Zeroville earlier this year, and have set a September 6 release. Moonstone Entertainment are now handling international sales.
Louise Archambault's And the Birds Rained Down is based on the novel by Jocelyne Saucier. The Canadian director's previous films are Locarno competition title Familia (2005) and Canadian Oscar candidate Gabrielle (2013).
As with his previous film The Kidnapping Of Michel Houellebecq (2014), Guillaume Nicloux puts the famous French author in front of the camera in Thalasso, with Houellebecq appearing as himself alongside Gérard Depardieu in a story about two men who meet at a sea water therapy centre.
Chile's José Luis Torres Leiva makes his San Sebastian debut with Death Will Come And Shall Have Your Eyes, one of the festival's Europe-Latin America Co-Production Forum projects in 2016. His previous films include The Sky, The Earth And The Rain (2008) and Summer (2011).
The Audition from actress and filmmaker Ina Weisse stars Germany's Nina Hoss as a violin teacher who becomes obsessed with one of her students. It is Weisse's second feature as a director after 2008 TV movie The Architect.
Kazakhstan's Adilkhan Yerzhanov will compete in San Sebastian with crime drama A Dark, Dark Man. His previous films include Cannes Special Screening The Owners (2014) and Un Certain Regard title The Gentle Indifference Of The World (2018).
Mexico's David Zonana makes his feature debut with Workforce, produced by Michel Franco, director of 2015 Cannes prize winner Chronic.
The titles join three Spanish productions previously announced to compete for the Golden Shell; Alejandro Amenábar's While At War; Aitor Arregi, Jon Garaño and Jose Mari Goenaga's The Endless Trench and Belén Funes A Thief's Daughter.
The festival will announce further titles in the coming weeks.