Festival moves to new autumn dates; audience award goes to Heartstone, and Girls Lost wins best children's film.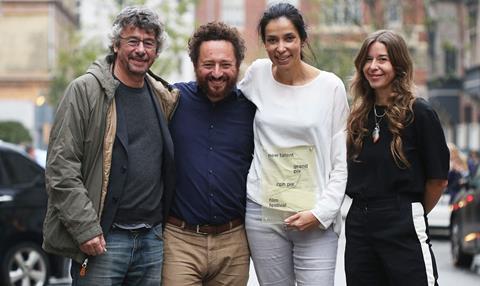 CPH PIX's New Talent Grand PIX has been awarded to Bulgarian filmmaker Ralitza Petrova for her film Godless.
The film, which is co-produced by new Danish production company Snowglobe, previously won the Golden Leopard in Locarno. It tells the story of a young physiotherapist struggling to survive in an economically depressed mountain town in post-Communist Bulgaria, who forms an unlikely bond with one of her elderly patients.
The New Talent Grand PIX – awarded for a debut feature — comes with $11,000 (€10,000); the jury was comprised of director Philippe Grandrieux (France), producer Erika Wasserman (Sweden) and DoP Manuel Alberto Claro (Denmark) [pictured with director Petrova].
In a statement, the jury said, "We were looking for a film-maker and talent who is not afraid to grab the world with the possibilities of cinema itself and use all its means to invite us inside this process. In such kind of cinema, there is no hierarchy: a scene of eating a soup is shot with the same intensity as a scene of a sex orgy. That is why we have decided to award the New Talent Grand PIX to the daring and interesting voice whose future films we are looking forward to - Ralitza Petrova."
The award to the best children's film, which comes with $3,300 (€3,000), went to Alexandra Therese Keining's Girls Lost, from Sweden. The jury was aged 11 to 14 and said, "The taboo themes surrounding gender identity and sexuality are relevant for most teenagers. The film stays engaging and entertaining to the end. It might be difficult to understand for children under the recommended age, but it touches subjects that are relevant for discussion. The themes contribute to a wild, surreal and heart wrenching film experience."
It was the first time the award was presented during CPH PIX, as part of the festival's BUSTER programme for schools and families.
CPH PIX is held in new autumn dates this year, moving from its previous April slot and also merging with children and youth festival Buster, which was formerly presented during September.
Politiken Fonden's best short film for children was given to Ztripes by Amalie Næsby.
The winner of Politiken audience award was Heartstone, the Icelandic-Danish production by Icelandic director Gudmundur A. Gudmundsson. The coming-of-age story is about two boys growing up in a small Icelandic fishing village.
On the festival's opening night on Oct 27, director May el-Toukhy received the annual Nordisk Film talent award for her debut film Long Story Short.
CPH PIX kicked off with the world premiere of Marvel's Doctor Strange, with hometown hero Mads Mikkelsen in attendance. Directors attending the festival include Amat Escalante with The Untamed, Elite Zexer with Sand Storm, Pernilla August with A Serious Game, and Gabe Klinger with Porto.
The festival continues through Nov 9, with guests visiting this week including American producer/writer/director James Schamus and British director Terence Davies (who is the subject of a retrospective).