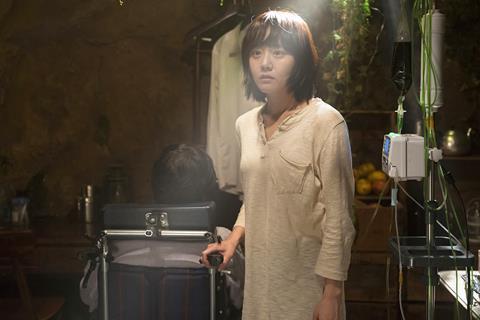 For the first time, the Busan International Film Festival (BIFF) is set to open and close with women directors' films, starting with Shin Suwon's Glass Garden on October 15 and ending with Sylvia Chang's Love Education, October 21.
Organizers today announced a lineup of 298 films from 75 countries, with 100 world premieres and 29 international premieres.
They are still finalizing two or three more selections along with the recipient of the inaugural Korean independent feature film production support fund of $177,000 (KW200m) launched this year by BIFF's Asian Cinema Fund (ACF).
Korean director Shin Suwon's previous works include Berlinale Generation Plus special mention award-winner Pluto and Cannes Un Certain Regard title Madonna.
Described by the fest as a "gut-wrenching story of revenge", mystery drama Glass Garden stars Moon Geun-young (The Throne, A Tale Of Two Sisters).
Taiwanese actress/filmmaker Sylvia Chang will also be in attendance for the world premiere of her film Love Education, which portrays three women from three different eras in Chinese history.
Fest chairman Kim Dong-ho said, "We were shocked by the sudden passing of [deputy director and executive programmer] Kim Ji-seok in May, and I'd like to thank festival director Kang Soo-youn and the staff for preparing the festival so well."
In honor of the roundly respected founding member, BIFF will hold a memorial service October 15. It is also launching Platform Busan, a networking forum for about 150 Asian filmmakers, as well as the previously announced Kim Jiseok Award.
Kim Dong-ho and Kang, having jointly announced last month they will resign after this edition wraps, referenced the difficulties BIFF has been going through the past three years since the fest refused to bend to government pressure and cancel the screening of critical documentary The Truth Shall Not Sink With Sewol.
Kang stated the Director's Guild of Korea, the Cinematographers' Guild of Korea and the Federation of Korea Movie Workers' Union are still maintaining their official boycott this year and said she was anxious "every day" since she started at fest director in 2015 about whether BIFF would be able to continue and feels "responsible" for unsolved issues at the fest.
Kim said, having been brought on despite Busan City Hall's resistance, he felt he had done his "primary" duties in seeing through a revision of the fest's regulations aiming for more independence and the running of last year's fest.
"As we are leaving, I don't think we are in a position to say who or what kind of person should take our places. I'm certain the board of directors will appoint good people and that the festival will run without fail next year," said Kim.
Programme
Kang noted a strong selection of Chinese and Japanese films in the lineup to mirror trends in the industry. Chinese-language films include Huang Xi's Missing Johnny, which Hou Hsiao-hsien helped produce, as well as the world premieres of Li Xiaofeng's Ash and Yang Ye-Che's The Bold, The Corrupt And The Beautiful – both competing for the Kim Jiseok Award.
Japanese titles include the world premiere of Yoshida Daihachi's The Scythian Lamb and Yoshiyuki Kishi's Wilderness, both also competing for the new prize.
Gala Presentations include the world premiere of Take Care Of My Cat director Jeong Jae-eun's love story shot in Japan, Butterfly Sleep, starring Nakayama Miho from Iwai Shunji's seminal Love Letter, and Darren Aronofsky's Toronto title mother! starring Jennifer Lawrence.
Other non-Asian titles include Guillermo del Toro's Venice Golden Lion winner The Shape of Water, screening in Open Cinema, and documentary master Frederick Wiseman's Ex Libris: New York Public Library in the Wide Angle section.
The Korean Cinema lineup is marked by works from established directors such as Ryoo Seung-wan's The Battleship Island: Director's Cut and Park Kiyong's Old Love as well as films by several women directors including E Oni's Missing and Pang Eunjin's Method.
Retrospectives include showcases on Suzuki Seizun, Sakha cinema and Korea's biggest star from the 60s and 70s, Shin Seong-il (The Barefoot Young).
With a boost from sponsors and Busan City, BIFF's budget this year is $10.3m (KW11.68bn), up from last year's $9.9m.