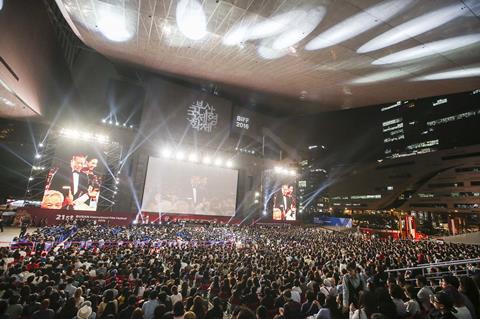 South Korea's Busan International Film Festival (BIFF) will open with the world premiere of Jero Yun's North Korean refugee drama Beautiful Days, starring Lee Na-young (Howling).
The festival will close with the world premiere of Yuen Woo-ping's Master Z: The Ip Man Legacy, featuring action stars such as Zhang Jin, Michelle Yeoh, Tony Jaa and Dave Bautista.
Set to run October 4-13, the 23rd BIFF will screen 323 films from 79 countries with 140 world and international premieres. All the New Currents competition films will be world premieres.
New festival director Jay Jeon commented on the late start this year's edition had in programming – with three programmers' positions left unfilled until late April – while putting an emphasis on finding "stability" for the festival after four years of strife following the now-deposed Park Geun-hye administration's efforts to censor and blacklist the event.
New chairman Lee Yong-kwan also spoke of wrapping up the "three to four years of difficulties" and making this year a new starting point, with the end of the local filmmakers' boycott, and the reinstatement of both himself and Jeon this January.
The festival has also seen slight increases in sponsorship and national funding.
"If I remember correctly, last year's budget was around KW11.7bn [$10.48m]. This year's budget has been confirmed at KW12.2bn [$10.93m]," said Jeon.
He also noted that around 30% of this year's selections are by women directors. This includes four out of the ten New Currents titles.
"I think this is not a bad score amongst major film festivals," he said.
Gala Presentations include the world premiere of Stanley Kwan's Hong Kong-China title First Night Nerves with the director and stars Sammi Cheng, Gigi Leung and Bai Baihe in attendance.
Japanese actor-director Tsukamoto Shinya will also present his samurai film Killing, while Korean-Chinese director Zhang Lu will present the world premiere of Ode To The Goose, starring Moon So-ri and Park Hae-il.
BIFF is launching the Busan Classics section, which this year will feature a centennial showcase of Filipino cinema including titles from Lino Brocka and Eddie Romero, and a retrospective on Korean director Lee Jang-ho.
Jeon also announced a memorial documentary on the late Kim Ji-seok is in progress with a budget of around $180,000, which is being put together by a committee headed by producer Tcha Sung-jai. Kim was a founding member of BIFF and former deputy director who passed away last May while attending the Cannes film festival.