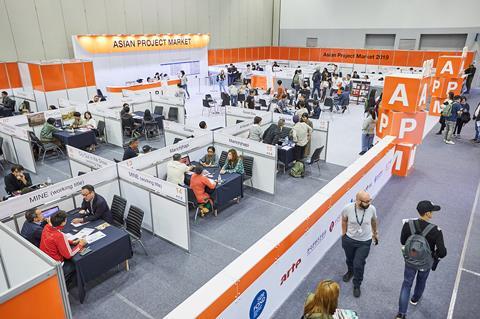 Busan's 2021 Asian Contents & Film Market (ACFM) wrapped yesterday (October 14), after a four-day hybrid event.
International sales meetings were held online while domestic participants in the Asian Project Market (APM) and E-IP Market had meetings on-site in Busan.
Last year's market was held entirely online, and most Korean sales agents have not travelled overseas since after the Berlinale in 2020.
"Post-pandemic, it's possible we will continue to be hybrid with online market screenings but what everybody agrees is that the most important thing is to be able to meet, to see one another's eyes and hear their voices in person," says ACFM co-director Oh Seok Geun.
His team reported a total of 1,479 participants from 55 countries and 853 companies were issued market badges. This is up from 885 participants from 45 countries and 611 companies last year.
A total of 200 booths from as many companies (94 of them newly added this year) and 23 countries were opened with 970 items of content in transaction. The E-IP Market saw 824 meetings and APM saw 515 meetings.
Danny Lee, head of international business at Korean sales company Contents Panda, was in Busan October 10-13 and said he found it refreshing to be back in the seaside city meeting people in person again after two years.
"Busan felt like a film festival again and it was good to see foreign film festival programmers there. It feels like Covid-19 is disappearing in Korea and the film festival vibe is coming back," said Lee, who had meetings with representatives of Cannes, Berlin and Rotterdam in Busan.
"Our sales team had a lot of Zoom meetings and our Korean film team did a lot of in-person meetings at APM. We ran into a lot of other Korean film industry people in the street and at drinks so we were having exchanges again. It was a holiday weekend so a lot of people were out and the atmosphere was good. It feels like maybe next year, we might be able to go back fully functional."
The rate of business depended on how much a country has been impacted by the pandemic, said Lee.
"But even in countries where Covid-19 is bad, OTT streamer hits like Squid Game on Netflix have been offsetting the atmosphere and keeping Korean content on the rise. Everyone is having a hard time but Korean films and series seem to be doing a little bit better in that sense."
Release schedule uncertainty
Buyers and sellers both cited the uncertainties of theatrical release schedules for slowing down the market.
Esther Yeung, head of sales and distribution at Hong Kong's Edko Films, said: "Busan has always been the most important market for Korean films. Because the window between ancillary and theatrical release is so close [in Korea], if you cannot give us a release date, we cannot go for films that are mid-budget or lower budget. Maybe with blockbusters you can be confident whenever you distribute it. But for those that you're not sure, even if they are good genre films if they have to depend on the buzz that you can create in Korea, the [uncertainty of] local release plan in Korea can have an adverse effect on our acquisitions.
"Most sales companies gave me news of postponing, only moving their dates later and later," Yeung added. "It's disappointing. The films I have acquired over the last two years are still on the shelf with no dates fixed. But despite all the delays for Korea, I still am acquiring Korean films."
Edko Films also had Longman Leung's Anita as Busan International Film Festival's closing film. "I was hoping to go to Busan especially when Anita was selected, but it would be difficult for us and the cast to travel because the Hong Kong quarantine on return is 14 days or 21 if you are not fully vaccinated," said Yeung, who arranged acquisitions meetings online during the market while overseeing the local release of Anita in Hong Kong.
Mia Park, manager, international marketing and festival at CJ Entertainment in Korea, agreed the inability to fix theatrical release dates was hamstringing progress on deal announcements and new title launches.
"Busan feels less of an individual market for us than a continuum in a year when Cannes started late and we opened sales on Kore-eda Hirokazu's Broker in Toronto and have been continuing to talk with buyers since then," she said, adding she doesn't expect to have any new titles to announce for the American Film Market (AFM) either.
Wayne Chang, founder of MovieCloud/GaragePlay in Taiwan, finds he has been doing meetings with different companies over whatever platform they prefer in the past two years, but that tends not to be an official market platform.
"We are mostly doing Zoom meetings and business over emails and phone calls. US companies have their own conferencing systems, which are not official market systems. It's good to see each other online but it's not the same. Everybody's anxious to go back to physical markets. It seems like everyone is optimistic that by EFM we are going back to normal. A lot of Asian companies are hoping to go because it's after Chinese New Year and great timing for us," he said, adding that he hopes border control and quarantine restrictions for fully vaccinated people will be relaxed by then.
Contents Panda's Lee agrees that, with cinemas soon likely to be allowed to stay open until midnight, Korean sellers will be eager to travel again more actively from EFM next year.
"The greatest hurdle is quarantine. It would be great if market organisers could make efforts to get quarantine exemptions for vaccinated buyers of the world going both ways. A sort of green pass. Because physical markets are definitely different from doing business in front of a computer," he said.