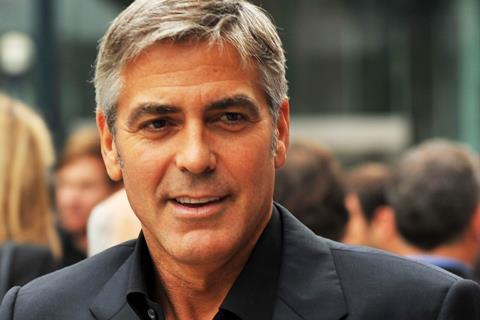 Channel 4 and Sky Italia have boarded as co-producers on George Clooney's six-part adaptation of Catch-22 for Hulu.
The series, starring Clooney alongside Hugh Laurie, Christopher Abbott and Kyle Chandler, will air next year on C4 in the UK and Sky Atlantic in Italy.
Based on Joseph Heller's satirical novel, first published in 1961 and previously adapted as a 1970 movie directed by Mike Nichols, the blackly comic drama follows the story of Captain John Yossarian, a US air force soldier in World War II driven mad by his will to survive the war.
Ellen Kuras (Eternal Sunshine of the Spotless Mind) will be directing the series with Clooney and Grant Heslov.
The drama is produced by Paramount Television, Anonymous Content, Clooney and Grant Heslov (Argo) on behalf of Smokeshouse Pictures, along with Richard Brown and Steve Golin from Anonymous Content.
Luke Davies (Lion) and David Michôd (Animal Kingdom) are co-writing and exec producing the series alongside Clooney.
C4 is contributing to select aspects of the development of the project, which will be shot on location in Italy, namely Sardinia and Roma, and filming is to begin this month.
Most recently, Channel 4 acquired Hulu original The Handmaid's Tale. It is set to roll out the second series of the show.
Clooney said: "I'm very excited to be working with Channel 4 to bring the classic Catch-22 to their channel. I couldn't think of a better place to be doing this."
C4 director of programmes Ian Katz added: "It's hard to imagine a work that speaks more directly to the frequently absurd times we live in, and to the growing sense of individual distrust of institutions.
"David Michôd and Luke Davies have produced a script that crackles with irony, anger and humanity. I'm thrilled that it will be a part of our stellar 2019 drama offer."
Sky Italia executive vice-president, programming Andrea Scrosati added: "We are very proud that a project like Catch-22 - a story that has shaped the mindsets of entire generations and still continues to thrill them - is filmed almost entirely in Italy, which in recent years has been able to fully show its creative and production potential, even at an international level.
"We were the first to believe in such a potential and creative heritage that, also thanks to projects such as The Young Pope, are now recognized and appreciated abroad too."