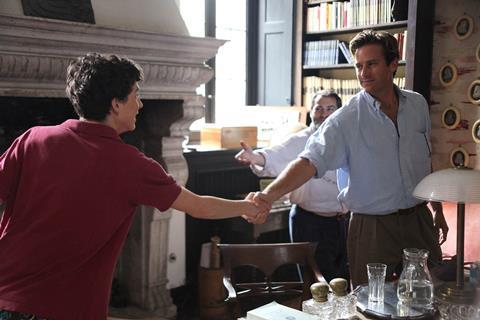 Top brass at AFI FEST 2017 presented by Audi have programmed three centerpiece galas: Luca Guadagnino's Call Me By Your Name, James Franco's The Disaster Artist, and Scott Cooper's Hostiles.
Call Me By Your Name premiered in Sundance and screened in Berlin and more recently Toronto. Armie Hammer and Timothée Chalamet star in the 1983-set coming-of-age story that AFI FEST screens on November 10. SPC holds worldwide rights.
The Disaster Artist stars Franco as Tommy Wiseau, whom cinephiles regard as the director of the worst film ever made – The Room. A24 holds US rights and the film premiered in SXSW. The festival screening is November 12.
Hostiles premiered at Telluride and stars Christian Bale as a solider in the Old West who escorts a Cheyenne chief and his family through dangerous territory. Entertainment Studios holds US rights and the festival screening is November 14.
Wormwood is a Netflix Original that screens on November 11 and charts a man's quest to discover the truth behind his father's death. Peter Sarsgaard stars. Errol Morris will be the subject of a festival tribute following a screening of Wormwood.
As previously announced, Dee Rees' Mudbound will open the festival on November 9, while events wrap up on November 16 with the world premiere of All The Money In The World followed by a tribute to Ridley Scott.
AFI FEST will present a retrospective of the work of Robert Altman with screenings and discussions of 12 films including M*A*S*H, McCabe & Mrs. Miller (1971), The Long Goodbye, Nashville, and Short Cuts.
The festival takes place from November 9–16 and the full festival schedule will be posted on October 27. Click here for further details. Free tickets will be available on the site on November 1.