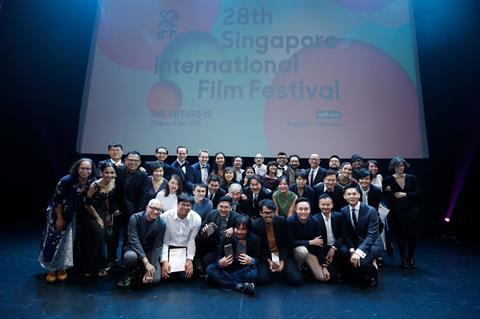 Luca Guadagnino's Call Me By Your Name was announced today (Dec 3) the winner of the Audience Choice Award at the 28th Singapore International Film Festival (SGIFF), which came to a close this weekend.
Over the past 11 days, more than 14,000 festival goers were drawn to the festival's film screenings, panel discussions, talks and masterclasses. A total of 112 feature and short films from 42 countries were screened, including 31 sold-out screenings, the highest since the festival returned in 2014.
In place of a closing film, Call Me By Your Name was rescreened today alongside Silver Screen Awards winners. These include best Asian feature film Disappearance by Iranian filmmaker Ali Asgari, best Southeast Asian short film, Jodilerks Dela Cruz, Employee Of The Month by Filipino filmmaker Carlo Francisco Manatad and best Singapore short film Tan Wei Keong's Between Us Two.
The Silver Screen Awards were revealed on Nov 30 at the Marina Bay Sands Grand Theatre, giving out a total of 14 awards. The other winners from the Asian feature film section are Sadaf Asgari who earned the best performance award for Disappearance, Anucha Boonyawatana who won best director for Malila: The Farewell Flower and Matan Yair's Scaffolding which received a special mention.
Oscar-winning Elizabeth's director Shekhar Kapur headed the jury for the Asian feature film competition, along with Hong Kong-Australian filmmaker Clara Law, Iranian-American director Ana Lily Amirpour and Locarno film festival's head of programming Mark Peranson.
SGIFF also presented, along with Swarovski, the inaugural Inspiring Woman In Film Award to Georgian director Ana Urushadze whose debut film Scary Mother represents Georgia for best foreign language film at 2018 Academy Awards. The new award aims to honour an outstanding female in film who promotes women's empowerment in her work.
Celebrating their outstanding contributions in Asian cinema, SGIFF presented the honorary award to Indonesian veteran filmmaker Garin Nugroho and the Cinema Legend Award to Japan's leading actor Koji Yakusho whose latest film is Hirokazu Kore-eda's Venice competition title The Third Murder.
SGIFF also paid tribute to two significant figures in the Asian film industry who passed away earlier this year - former SGIFF festival director Mrs Lesley Ho and founding member of Busan International Film Festival Mr Kim Ji-seok. Local and regional film practitioners shared personal anecdotes of them in special tribute videos screened during the awards ceremony.
SGIFF executive director Yuni Hadi said: "As a platform that aims to be a tastemaker in inspiring the discovery of independent cinema, we are heartened to see fruitful dialogues facilitated; achievements of our regional talents celebrated; and new friendships forged."
SGIFF is an event of Singapore Media Festival, hosted by Info-communications Media Development Authority of Singapore (IMDA).
Full winners list for the Silver Screen Awards:
Asian Feature Film
Best film
Disappearance, dir Ali Asgari
Best director
Anucha Boonyawatana of Malila: The Farewell Flower
Best Performance
Sadaf Asgari of Disappearance
Special Mention
Scaffolding, dir Matan Yair
Southeast Asian Short Film
Best Southeast Asian Short Film
Jodilerks Dela Cruz, Employee Of The Month, dir Carlo Francisco Manatad
Best director
Sorayos Prapapan of Death Of The Sound Man
Best Singapore short film
Tan Wei Keong of Between Us Two
Special Mention
The Malediction, dir Makbul Mubarak
Youth Jury & Critics Programme
Youth Jury Prize
Death Of The Sound Man, dir Sorayos Prapapan
Celebrating outstanding contributions in Asian cinema
Honorary Award
Indonesian filmmaker Garin Nugroho
Cinema Legend Award
Japanese actor Koji Yakusho
Inspiring Woman In Film Award
Georgian director Ana Urushadze of Scary Mother
Youth Critic Award
Joshua Ng Jun Hao, a student from Nanyang Technological University
Most Promising Project of the Southeast Asian Film Lab
A Useful Ghost by Ratchapoom Boonbunchachoke