A retrospective of work by the Polish cinematographer, who worked with Polanski and Haneke, to screen at the festival.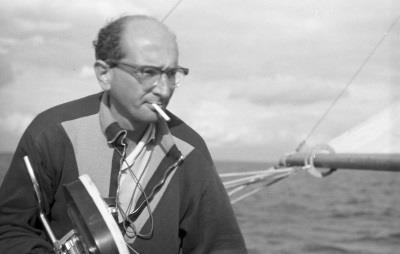 Camerimage, the cinematography festival held in the Polish city of Bydgoszcz, is to pay tribute to the late Jerzy Lipman with a retrospective of his work.
Films shot by the Polish cinematographer will be screened as part of Camerimage's Remembering the Masters series throughout the 22nd edition of the festival (Nov 15-22).
Included in the series will be Kanal (1957), Knife in the Water (1962), A Generation (1955), The Ashes (1965) and Colonel Wolodyjowski (1969).
Lipman, who died in 1983, is considered one of the most eminent cinematographers in Polish cinema history and is a co-originator of the Polish Film School movement.
Lipman endured occupation and imprisonment during the Second World War before he became a celebrated filmmaker. After his release in 1948, he joined the Cinematography Department of the National Film School in Łódź and graduated in 1952.
As a student, he was the cinematographer for the documentary shorts of his colleague Andrzej Wajda – The Pottery at Ilza (Ceramika iłżecka) and While You Are Sleeping (Kiedy ty śpisz).
Lipman's feature debut was a short story by Konrad Nałęcki from the Socialist Realist Three Stories (Trzy opowieści).
He was a cameraman for Five Boys from Barska Street (Piątka z ulicy Barskiej), shot in Agfacolor and directed by Aleksander Ford, with whom he later cooperated as a cinematographer in Eighth Day of the Week (Ósmy dzień tygodnia).
Lipman and Wajda's feature debut was A Generation (Pokolenie). Lipman showcased modern camerawork in the flagship movie of the so-called Polish New Wave, which included the Knife in the Water (Nóż w wodzie), Roman Polański's debut.
Lipman created camerawork for successful, yet more traditional, films like Answer to Violence (Zamach) by Jerzy Passendorfer, Gangsters and Philantropists (Gangsterzy i filantropi), The Law and the Fist (Prawo i pięść) by Jerzy Hoffman and Edward Skórzewski, and a comedy of manners entitled Rozwodów nie będzie.
On the set of The Ashes (Popioły), Lipman again collaborated with Wajda to help the director revive the Napoleon era.
Other notable credits include Jerzy Hoffman's Colonel Wołodyjowski (Pan Wołodyjowski), Jerzy Passendorfer's Day of Purification (Dzień oczyszczenia), Bernard Wicki's Das falsche Gewicht, Samuel Fuller's Dead Pigeon on Beethoven Street (Martwy gołąb na ulicy Beethovena), Aleksander Ford's Sie Sind Frei, doctor Korczak and Michael Haneke's Lemminge.
Lipman's tribute will join another retrospective taking place in honor of the late Oscar-winning cinematographer John Alcott as part of the special "Remembering the Masters" series.