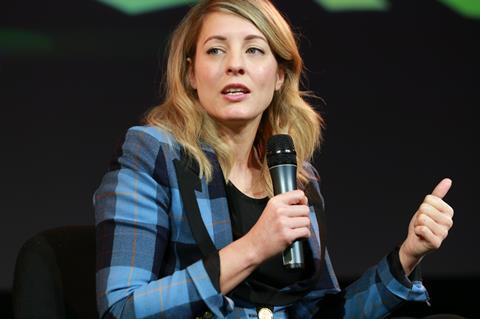 Canadian heritage minister Mélanie Joly has moved to allay fears over the recently announced Netflix Canada deal and in particular its impact on French-Canadian culture.
Speaking during a fireside chat with Canadian Media Producers Association president and CEO Reynolds Mastin on Thursday (February 1), Joly said she understood concerns but agreed with Mastin that the Netflix development had caused confusion "and a lot of surprises" in the industry.
The minister's comments came in a 30-minute session in which she emphasised the important of an export strategy, spoke warmly of her relations with her counterpart in China, and said she had instructed her department to implement up a zero tolerance policy over sexual harassment, with training programmes and a code of conduct in the hopes of allowing women to tell their stories.
Netflix deal part of 'a transition plan'
On the thorny issue of Netflix, the minister began by expressing empathy for creators of Canadian and in particular French-Canadian content.
"Being Quebecoise and Francophone I understand the fact that the Quebec population and market reacted to the deal," Joly said, in reference to her announcement last September that Netflix will invest CAD $500m in Canadian content over five years and establish its first non-US production hub in Canada.
"There was a very strong anxiety among Francophones that we need to protect our language and our culture," the minister continued. "The reaction was linked to the fear that if a big OTT such as Netflix can participate in the assimilation of Francophones, what will people watch how will that replace French content?
"But the reality is we always thought of this as a transition plan. We don't have the tools now to protect our culture on the web, so the investment in Netflix was something that made sense. It's CAD $100m per year net for five years. There's CAD $25m in development of [French-language product], and this is based on the fact that we were able to convince Netflix that the Canadian market is a great market… We thought that would bring money into the system for our stories to be on the platform."
"There's no tax exemption that's been negotiated," Joly said, addressing a sore point among critics of the deal. "As a government we would never do that. There's no mention of that fact that we will never change our laws for regulate – that was never part of the discussion. This will be a net benefit to Canadians."
Review of Broadcasting Act and Telecommunications Act
"The real conversation is the review of the Broadcasting Act and Telecommunications Act. This is how we can fundamentally change how we have Canadian content in our country in the future. I understand a lot of the anxiety in the sector but I hope we can work together to educate the public to the importance of Canadian content."
The government's proposed stop-gap funding for the CMF (Canadian Media Fund) comes as cable companies withdraw their support as subscriptions drop off. Joly declined to elaborate on the size of the government contribution, nor would she be drawn on how it would calculate it.
"Because I heard CMF funds were going down because cable subscriptions were going down, I wanted to include that in the Creative Canada [cultural policy review announced last September]," she said.
"We have created a backstop. We heard from many creators and artists the importance of investing at an early stage. So now, part of the CMF will include some early-stage funding. We want to develop the tools for you to find ways to get bigger budgets on productions. Through Telefilm Canada we joined Eurimages and have signed in the last two years co-production treaties with China, New Zealand, Ireland, Liechtenstein, and South Africa.
Export strategy

A key aspect of Joly's policy is supporting export as as way of promoting Canadian talents and goods to the world. "We announced a CAD $125m [investment] into creative export strategy." Joly said, adding that further details would be forthcoming in the months ahead. "This was to replace cuts by the [Stephen] Harper government. So where is the money? Now we have boots on the ground, embassies and trade missions. We have decided to push more co-production treaties."
The minister noted a Chinese trade mission was due to arrive in Canada on Friday. "There are incredible opportunities in China," Joly said. "In order for a sector to thrive, we need to have exports." She is involved in setting up the first trade mission by Canadian creative industries to China, and said she and her Chinese counterpart recently agreed to set up a joint committee.
The minister also stressed the importance of Canada's presence of trade fairs and events, citing the Cannes Film Festival and MIPCOM as two key events.