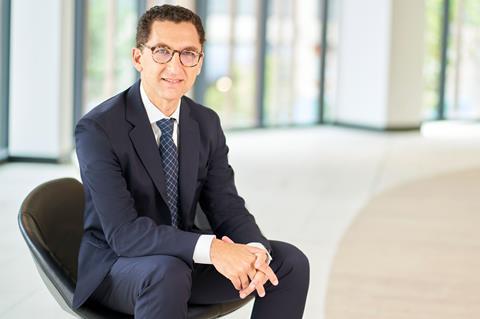 French media powerhouse Canal+ has pledged to invest €1bn in cinema in the next five years and has showcased its high profile production slate for 2023.
"2023 will be the best year for cinema in Canal+ history," Canal+ chairman and CEO Maxime Saada declared at a press event in Paris on Wednesday, which focused on the group's investment in the country's seventh art.
Saada's pledge to spend €1bn spend is in line with the group's previously announced plans to invest €200m per year in film, and includes €20-30 million in annual investment from OCS. In January, Canal+ finalised a deal to buy Orange's film production arm Orange Studio and pay TV division OCS.
"I would be open to signing a €1bn deal with French cinema for the next five years," Saada said, pointing out that the company is already investing upwards of €220-230 million a year which, multiplied by five, already extends past that sum. Saada added that "nothing has been signed to date, but there are active discussions. Our hand is outstretched."
Saada also highlighted the fact that "for the first time ever, there is one French platform that has content from all of the US majors" namely Sony, Paramount, Warner Bros., Universal and Disney. He also pointed to the company's prolific production and distribution arm Studiocanal.
Among the top 100 films at the French box office, Canal+ has broadcast rights to 99 of them. Saada said that "we're trying to buy the 100th."
"Our ties with cinema are what define the singularity of Canal+," he said, pointing to both long-term relationships with veteran directors and producers and the fact that "we accompany up-and-coming talents from their short films to their features."
2023 film slate
The group continues to invest in both local-language titles and ambitious international projects. Canal+'s head of film acquisitions Laurent Hassid said that "there's not one recipe to make a good movie" and that the company works with filmmakers and producers from the early stages of production for projects that span all genres. "French film is both a popular art and an auteur cinema," he said.
Hassid said that Canal+ invested in around 120 projects in 2022, of which 33 of which were first features.
Among the films Canal+ has invested in for the year ahead are Frederic Tellier's Abbé Pierre, A Century Of Devotion about the famed French Catholic priest for SND that Hassid called "extremely ambitious" and "one our most anticipated titles." He also cited Thomas Cailley's La Règne Animal and The Price of Money – a Largo Winch Adventure starring Tomer Sisley and James Franco.
Also among buzzy Canal+-backed titles coming up are Michel Hazanavicius' animated The Most Precious of Cargos, Jacques Audiard's Emilia Perez and Cedric Kahn's Making Of.
Longtime Studiocanal head and newly appointed deputy CEO of Canal+ Group Anna Marsh highlighted the group's current local language hits such as Alibi.com 2 that just crossed the one million admissions mark in France. She said Studiocanal wanted "to further develop franchises in both French and English." Studiocanal is behind notable international franchises such as Paddington and aims to intensify its strategy moving forward.
Among anticipated English-language titles is all-new film Smiling Hacker written by Venice-winning film Happening director Audrey Diwan. Currently in early writing stages, the film has Tahar Rahim (The Serpent, The Mauritanian) is in talks to star and Adil & Bilall (Rebel, Bad Boys for Life) are in advanced discussions to direct.
Marsh also teased anticipated English-language titles in the works such as Josephine Baker biopic from Maimouna Doucouré, Cold Storage starring Liam Neeson and Amy Winehouse biopic Back to Black starring Marisa Abela.