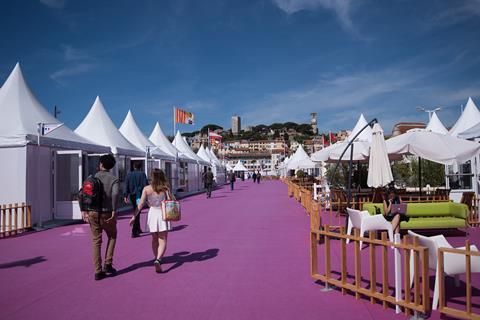 As the festival reaches the midpoint of the main weekend, Cannes regulars are divided over how much business there is to be done in the market this year.
Foot traffic in the Riviera, Lérins and Palais was notably far slower than usual earlier in the week. It was possible to get bookings at short notice in even the most exclusive restaurants. Many attendees questioned the decision to start the market a day earlier than usual.
Jerome Paillard, executive director of the Marché, explained he had little choice but to keep step with the festival which opened on Tuesday.
"We thought at the beginning to keep the opening on the Wednesday but logistically it would have been very difficult," he said.
One prominent French sales agent Tweeted this weekend: "I have the unpleasant impression that people leave on Sunday instead of going over the weekend widely as before. #Cannes2018 too expensive and too gray."
Others are more upbeat. The Marché's own research suggests delegates are still staying for an average 9.1 days. Prices for exhibitors are exactly the same as last year and Paillard insists Cannes remains the least expensive market, "cheaper than EFM, AFM and Mip-TV." The cost of accommodation and restaurants is beyond the Marché's control.
By Saturday, the terrace at the Grand was buzzing with activity as were the halls of the Marché. Bigger independent distributors who last year had next to nothing to buy - after Netflix and Amazon had hoovered up so much content - have been pleasantly surprised by what has been on offer. Many have pointed to the number of internationally appealing titles available from outfits such as FilmNation, Bloom, Sierra Affinity, Millennium Media, Voltage, Global Road and AGC Studios.
Chinese buyers out in force
"We are exactly on the same trend as [compared to] last year in terms of every activity, including buyers," Paillard said in response to the suggestion attendance is down this year.
Even Netflix has sent a reported 26 representatives to Cannes.
Chinese buyers in particular have been out in force, accounting for 6% of the entire attendees, said Paillard. Los Angeles-based indie Rights Movies have struck a 13 picture deal with Chinese outfit Huala Media in their "first meeting, first day," according to Indie Rights principals Linda Nelson and Michael Madison. This one deal, they said, more than covered their costs for both Cannes and next autumn's AFM.
Nor does the Marché appear to hold any grudge against veteran producer/seller, Paulo Branco, in spite of all the acrimony surrounding Branco's failed lawsuit to stop the festival showing Terry Gilliam's The Man Who Killed Don Quixote. Is Branco still welcome? "Absolutely," Paillard declared. "He has his booth, he has his badge…in term of the market, there is no impact. This is not the first of the last of disputes about rights."