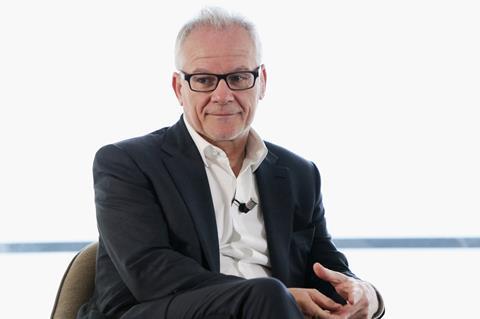 Cannes Film Festival delegate general Thierry Frémaux sat down with Screen International on Thursday (April 12) at the festival's new offices on the edge of Paris's trendy Marais quarter for a discussion on the selection and logistics of the 71st edition, announced earlier in the day.
For a man who went to bed at 3am, after finalising details on the selection, before getting up early and spending the morning being grilled by nearly 500 journalists in a televised press conference, Frémaux was remarkably fresh and composed, and he energetically answered questions in a meeting room with a panoramic view over a jumble of Paris rooftops.
Were you worried about the press conference this morning? There has been a lot of sniping at the festival this year in the lead-up to today's line-up announcement.
Not at all. It's a pleasure to finally unveil the line-up. The actual selection process is both pleasurable and difficult. Firstly, you have to see the films. Then afterwards you have to discuss. Then there comes the most painful part, when you have to say no, but in such a way that leaves the door open so that people still want to come back.
There's a theory doing the rounds in the UK that Mike Leigh's new film Peterloo was not taken into consideration for Official Selection because it didn't have a French distributor attached. Is that the case? Is it a stipulation in the Cannes regulations?
A film presented in Competition has to be available to be sold for distribution which is the case with Peterloo. It's the same exact rule that has been highlighted recently due to the situation with Netflix. These rumours often turn out to have no basis.
It's a disappointing year for the UK. Can you comment on why this might be?
Erm… oui, non.
I've just come back from MIPTV in Cannes which saw the launch of the new Canneseries TV festival in the Palais des Festivals. The audiences were young and enthusiastic and, of course, there were a lot of selfies. Do you think Cannes and cinema are losing a younger generation to the high-end TV scene?
No, not at all. On the contrary. As Pierre Lescure said in the press conference, we just launched our new initiative to encourage more youngsters to come to the festival [the 'Three Days in Cannes' initiative offering passes to 18-28-year-olds] and we had 600 applications in one day. We could easily get 20,000 youngsters to the festival. Canneseries is a public festival, not a professional festival aimed at the cinema world like Cannes. You can't compare it or its policy on selfies.
Your selfie ban has attracted a lot of attention. How exactly are you going to enforce it?
We're going to see. There's a rule and everyone has to respect it. At Berlin, Venice, the Oscars and the Césars, the public doesn't pass by the red carpet. The democratisation, the fraternisation of the Cannes red carpet is that we invite everyone but you have to respect the rules. We didn't ban selfies 15 years ago because they did not exist but now they exist.
But doesn't the Cannes selfie represent the democratisation of the red carpet portrait that before was only available to stars?
Yes sure, but people can do it in every other part of their lives. They can do it in St Tropez, but not at the Cannes Film Festival. When you go to a church, to pray, you don't start taking selfies.
So, you're comparing the Cannes Film Festival to a church?
[Laughs] Well, I've used football in the past, it's a new comparison.
Netflix, or rather its absence, looks set to be one of the topics dominating Cannes again. Were you surprised by the company's decision to announce the withdrawal of its films on the eve of the press conference? Why do you think Ted Sarandos decided to make the declarations he did?
I didn't read the article.
He criticised your selfie ban.
Ah, but he likes selfies. Look, we speak to Netflix. We have an interesting dialogue going on. We both have a problem. They have a problem and the Cannes Film Festival has a problem. They have an economic model that they don't want to change and France has a rule saying films have to come out in the theatres. Last year they came, but afterwards, they refused to release the films theatrically. This year, we said, "Watch out, there is this rule." They could have said, "Not a problem, we'll go Out of Competition" or "For Alfonso Cuaron's film, we're going to make an exception and accept to release it in France". I would have loved that and I'm continuing to beg them to do that. They would be hailed as heroes.
Yes, but there's a complication. If they release theatrically in France, they can't put it on their platform here for three years.
I am asking them to accept that rule. They show dozens and dozens of films each year on Netflix. Could they not release just one film a year theatrically in France in order for it to come to Cannes? If you go to China, you're faced with censorship. You can't show everything you want over there. Each country has its specificity. The specificity of France is that it asks Cannes to only put films in Competition that are free to be shown theatrically. The consequence of the chronology means it comes out three years later. Sure, it's absurd. On a personal level, I think it's time to change it but for now, in 2018, we are where we are. If they accepted to bring out the film, to give it to a distributor and to say, "Look, you see we also financed Orson Welles's The Other Side Of The Wind." They would be heroes and it would be fabulous for their image.
Do you think the Cannes Film Festival and Netflix can reconcile?
Up until now, I've only done good stuff for Netflix. Last year there were two films. But I was heavily criticised. I nearly lost my job. It was very violent. I like Ted Sarandos a lot. One day we'll be on the red carpet together again. A lot of things are going to change. Netflix is going to change, Cannes is going to change. Alfonso Cuaron's film is a beautiful film and I also want to applaud Netflix for coming on board the amazing Orson Welles project.
Do you think you, Cannes, have had a change of attitude around the issue of the representation of women?
My responsibility is cinema. I don't have the legitimacy to speak about the question of women. The Cannes selection is based on artistic values, not social ones. When it comes to the question of women, the festival prefers to work collectively with associations, personalities and artists to look at what can be done. There will be more and more films by women in Official Selection in years to come because more and more women are coming through the ranks.
As the 50th anniversary of France's May 1968 mass protests – which shut Cannes down – approaches, can see you see parallels with what's going on now in France and around the festival: the train strikes, the protests at Nanterre University, criticisms of the festival's policies and, of course, Jean-Luc Godard may also be back in person?
At the Cannes Film Festival it's 1968 all the time. Every day, every year. This year it's the 50th anniversary of 1968 but I get the sense that society wants to look to the future and the rest of the world rather than itself. And the selection shows this: we've got films from Egypt, Kenya, Lebanon – we're going far. We want it to be universal and we have all the ingredients for a good party.