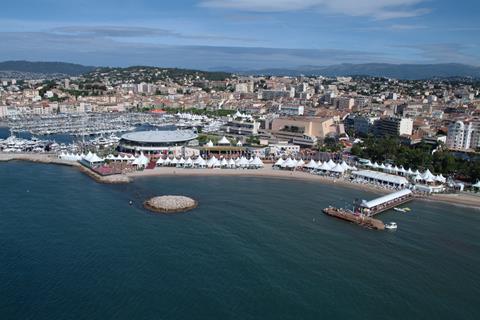 Finnish director and screenwriter Mikko Myllylahti and Syrian filmmaker Soudade Kaadan will be among 15 directors presenting their projects at the Cannes L'Atelier co-production meeting in May.
The event, organised by the Cannes Film Festival's Cinéfondation, will run May 16-23.
Myllylahti, who co-wrote Un Certain Regard winner The Happiest Day In The Life Of Olli Mäki, will present his debut project The Woodcutter Story.
The project, which took part in the 2018 edition of the TorinoFilmLab, revolves around a man who loses everything when his idyllic village is blighted by the construction of an open-pit mine.
France-based Syrian director Kaadan will present her new project Syria. It carries on the exploration of her war-torn country seen in her debut feature The Day I Lost My Shadow. The feature, about a mother fending for herself and her son against the backdrop of a war-devastated city, won Venice's Luigi de Laurentiis award in 2018.
Her recent short film Aziza, about a Syrian refugee teaching his wife to drive in Lebanon, won the grand jury prize at the Sundance short film awards earlier this year.
Other participants include Greek, London Film School graduate Christos Massalas, who will unveil his debut feature project Broadway about a group of street performers and petty criminals living in an abandoned shopping mall in Athens.
It follows his short film Copa-Loca, set against the backdrop of an abandoned Greek holiday resort, which premiered in Cannes Directors' Fortnight in 2017.
Pakistani filmmaker Iram Parveen Bilal, whose past credits include the award-winning features Extinction and Josh, will present her new project Wakhri.
It follows a pioneering female maths teacher who believes in education for girls, who creates a sexy avatar called Wakhri to promote the cause she believes. The avatar captures the imagination of the Pakistani public with unexpected results.
First-time territories
The 2019 selection also includes projects from territories that have never participated in the event before.
In a first for Myanmar, poet, artist and filmmaker The Maw Naing will present his second feature The Women about the daily struggles of four impoverished Myanmar women.
It won the Open Doors Grant and an invite to the Sørfond's annual pitching event in Norway when it was presented at the Locarno Film Festival's Open Doors development event in 2018.
Nepalese anthropologist and filmmaker Fidel Devkota will present his debut feature Kangling (Bone Trumpet). It is produced by filmmaker Min Bahadur Bham, best known for his well-travelled festival hit The Black Hen (Kalo Pothi). It was originally unveiled at Busan's Asian Film Market last year.
Losotho director Lemohang Jeremiah Mosese will attend with his second fiction feature project Victoria Falls.
Growing legacy
Created in 2005, l'Atelier presented 198 projects to date, 157 of which have been released in theatres and 27 of which are currently in post-production.
The event's Livre des Projet, containing full details of all the projects due to be presented, will be available online from the beginning of April.
The full-list of projects
The Settlers dir. Felipe Galvez (Chili)
Ode to Joy dir. Gabriel Tzafka (Denmark)
Sinjar dir. Anna Bofarull (Spain)
The Woodcutter Story dir. Mikko Myllylahti (Finland)
Broadway dir. Christos Massalas (Greek)
Over Time and Distance dir. Yotam Ben-David (Israel)
Victoria Falls dir. Lemohang Jeremiah Mosese (Lesotho)
The Women dir. The Maw Naing (Myanmar)
Kangling dir. Fidel Devkota (Nepal)
Wakhri dir. Iram Parveen Bilal (Pakistan)
In Alaska dir. Jaap van Heusden (The Netherlands)
Rift in the Ice dir. Maja Miloš (Serbia)
Nezouh dir. Soudade Kaadan (Syria)
Victim dir. Michal Blaško (Slovakia)
New Dawn Fades dir. Gürcan Keltek (Turkey)