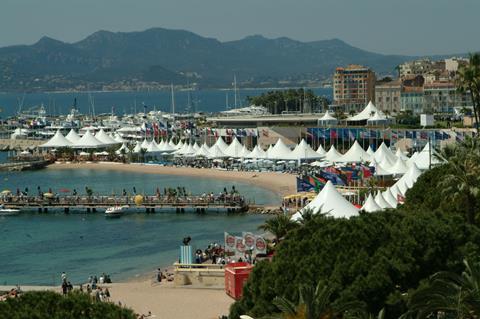 The announcement that Cannes has postponed its May event until later in summer due to the coronavirus pandemic has been met with a mixed response from the independent US community that typically thrives at major festivals and markets.
After festival brass said on Thursday (19) they were dropping the original May 12-23 dates, the Marché du Film subsequently confirmed to Screen the market would take place at the same time as a physical festival, while organisers continued to forge ahead with plans for a virtual market.
Against a backdrop of global unease and industry uncertainty over what might happen, when it might happen, and what form that could take, sales agents and producers who spoke to Screen said a possible late June / early July restart as suggested by Cannes chiefs was probably too optimistic given the slow response in Europe to the spread of the virus.
Others sounded a more optimistic note. However everyone who spoke to Screen was unanimous about two things: they support the festival and market in whatever form it may take, and want what is best for public health.
'Everybody wants Cannes to exist in one shape or another this year'
One member of the CAA-led consortium that is planning its own virtual market told Screen the entire industry was working to find a solution for the "world's biggest cinema institution and industry gathering". He continued, "Everybody wants to see it exist in one shape or another this year. And Cannes has provided clarity as and when it could provide it. I don't see any bad will from any part of the industry."
The executive added that late June / early July would be "an excellent date to get the official selection presented, and enable those films to shine, get reviewed and sold." However the person noted, "It will be too early for a physical market to materialise."
Ron Gell, vice-president of international sales and distribution at Pure Flix/Quality Flix who has attended Cannes for many years, said: "I was hoping they would push until August, providing more time for the virus to settle down a bit… still, [late June early July] is incredibly optimistic. Most importantly, what the virtual market looks like is going to be critical and how that is tied into film festival films. This coordination is critical for an effective Cannes market."
Gell continued, "That said, we're planning our own high-end solution, so we can present and meet with clients we should be meeting this week in Hong Kong, MIPTV and the festival."
Another veteran sales executive expressed amazement over the timing of the Cannes announcement. "To be honest, I'm shocked it took this long for the festival to "postpone"… I honestly don't think people are going to feel comfortable travelling until maybe Toronto if we're lucky," the seller said.
"I just spoke with a Chinese distributor who said their life is probably 80% back to normal now: that's about three months after this started in China, and could be even four. And the rest of the world has reacted slowly, and doesn't have the ability China does to put the country and citizens on complete lockdown. I think ultimately, given the calendar of events, it's quite likely we'll see the cancellation of the festival as the longer they go without announcing dates, the less options they will actually have."
'The further you push the dates… the less room inventory is available'
Another sales agent agreed the suggested restart date was too soon. "The problem that you get by moving the market into July (assuming that the COVID-19 thing is well under control by then) is that Cannes and the whole of the south of France is booked solid with locals on vacation," he said. "The further you push the dates into July and August, the less the room inventory is available, and the price is going to reflect the scarcity of space.
The executive continued, "From my perspective, they should step up and cancel the event outright, and move forward to setting up next year as the celebration. The film selection, jury viewing, etc can still take place, they can still award the prizes for the films, but unfortunately pushing the festival down the road a month or two seems like a dumb idea at best."
Fred Bernstein, the president of Astute Films who recently produced Civil Rights drama The Best Of Enemies starring Sam Rockwell and Taraji P. Henson, said: "We are all swimming in a sea of uncertainty. The selection of a new date requires determinations of safety for mass assembly in the South of France and safety for international travel, so I hope that happens soon. It would be great if it is possible as early as June or July.
"We, like others, have finished films we want to share with audiences around the world in these trying times. Many of us are lucky enough to have access to streaming services and DVDs to carry us through. But there is nothing like sharing the movie viewing experience with an audience of strangers in a dark auditorium. We look forward to resuming our efforts to present movies that make that experience enriching and entertaining once again."
Virtual market cannot replace face-to-face experience
Those who spoke to Screen agreed the notion of a virtual market was a necessary contingency. Guiding lights at both the Marché and the CAA-led virtual camps have said they value the essential role of a physical event where face-to-face transactions take place and are taking action in unprecedented times.
"It's not for the sake of creating an alternative to Cannes," said one participant in the CAA-led initiative, "but because buyers need films, and we need to provide them with a timeframe and user-friendly environment for them to engage with new material."
"We are welcoming Cannes at a later date and are looking forward to know more about the virtual markets that will be offered to evaluate our options," said Brian O'Shea of The Exchange.
At time of writing many sales agents were still weighing up which virtual platform they would adopt. "We have not decided which platform we will be using yet or if we will use one. We are looking at all options," said Jason Moring of DDI.
As for when the US-based industry will decide whether or not to attend, one sales head said, "We'll likely be doing heavy digital meetings of some sort in May. And then if things are all sorted out in July, we'd go there too. But there's so many moving parts to this virus. Getting to the point where the whole world is contained by end of June seems unlikely. Hopefully, but unlikely."
Another regular Cannes attendee observed, "I will decide very spontaneously and as late as possible. Which means that if we were to attend, it would not be in our usual capacity, but in a much more reduced form. But our company can totally skip a market without any problem as well."
Amid the scramble to find projects, adapting to working from home, and worrying about whether Cannes may or may not take place, another sales agent emphasised the need to stick together. "I think too many people are trying to find certainty when all one can do is be extremely collaborative, supportive of each other, and the survival of the independent sector will rely on that tribe welfare approach."