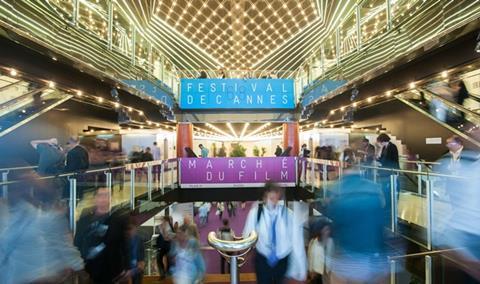 The Cannes Film Festival's Marché du Film has announced it will run a virtual market this year alongside its physical event in response to the coronavirus pandemic.
The online market will run the same scheduled dates of May 12 to 23.
Marché du Film chief Jérome Paillard said the market started developing the initiative a few weeks ago when it became clear that a number of sellers and buyers may not be able to make the journey to Cannes this year due to the coronavirus pandemic.
"Working on the hypothesis that the market will go ahead, we've been thinking of what we can do to support people who won't be able to make it this year," he said.
In the event the physical market is cancelled the virtual market will still go ahead, he added.
"Our aim is to help the industry to keep working at this difficult time when cinemas are closed and shoots have been shut down," said Paillard. "The market needs an event in spring and we're trying to come up with solutions, even if they're not perfect."
The initiative, which is still in development, will run on a separate dedicated platform from the market's existing Cinando industry online platform.
"We'll use the experience and technology we've developed through Cinando but the screenings will run on a separate dedicated site. It will be called something like Marché du Film Online but that's yet to confirmed," said Paillard.
Companies will be able to book online screenings slots to run at the same as physical screenings in Cannes, with an option to run catch-up screenings for buyers in different time zones. Paillard said these screenings could be for completed films, works-in-progress or pitches. Sellers not able to attend Cannes this year will also be able to book online screenings only.
Market participants will then be able set up meetings via the Marché's existing Match&Meet App, which it launched last year.
"Zoom teleconferencing technology has recently been integrated into the App which will help with the setting up of online meetings," said Paillard.
He said the cost of the online accreditation would be around €200 ($217) and would include a year's subscription to Cinando as well as access to the screenings. A regular Marché only badge currently costs €369 ($400).
There would be no extra cost charge for online screenings for buyers who had booked physical screenings in Cannes and charges for online screenings only would be "small", said Paillard.
In 2019, some 12,500 professionals from 121 countries participated in the market which encompasses stands and pavilions in and around Cannes Palais des Festivals as well as offices in hotels and apartments up and down the Croisette.
Speculation over whether parent event the Cannes Film Festival will go ahead has intensified in recent days as most of Europe has gone into lockdown as governments attempt to slow the spread of coronavirus.
The festival said over the weekend that it was business as usual for its selection team - albeit at home - and that it would take a final decision on April 15, the eve of its traditional news conference in Paris announcing the Official Selection.
As of today (March 18), France is on the second day of a strict 15-day nationwide lockdown under which its 66 million population has been ordered to stay at home. Police are patrolling the streets to ensure people comply. As of Tuesday night (March 17), there had been 7,730 confirmed cases of Covid-19 in France and 175 related deaths.
The lockdown could be extended beyond March 31. Rumours were rife on Monday that it could last as long as 45 days although a government spokesperson dismissed this as "false news".
The Marché du Film's virtual market announcement follows news overnight that a group of independent Hollywood, French and UK companies and US agencies are creating a free-to-access virtual market platform.
Under this industry-driven initiative, participants will be able to present completed projects and promo reels, online talent presentations, and multi-party video conferencing to enable back-to-back negotiations.
Sales company participants include: 30WEST, AGC Studios, Altitude, Anton, Cornerstone Film, Film Constellation, FilmNation, Lionsgate, Mad River, Miramax, Mister Smith, Protagonist, Rocket Science, Sierra Affinity, Solstice Studios, StudioCanal, STX Entertainment, Voltage Pictures, and Wild Bunch