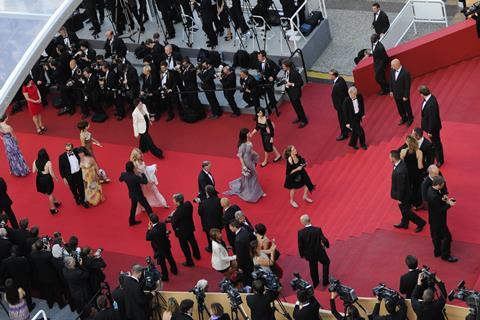 European film industry professionals have given a mixed response to the Cannes Film Festival's announcement that it is postponing its 73rd edition due to the coronavirus pandemic.
The festival said on Thursday (March 19) it was abandoning its original dates of May 12-23 and that it hoped to reschedule for the end of June, early July. It said its decision and the timing of the decision would depend on how the coronavirus outbreak evolved in France and internationally.
The Marché du Film later confirmed to Screen it will take place at the same time as the festival, if it goes ahead, and that it was also pushing on with announced plans for a virtual market to run alongside its physical event.
The festival had initially said it would make a final decision on whether to go ahead on April 15, on the eve of the announcement of its Official Selection in Paris, but pressure has been building in recent days on delegate general Thierry Frémaux and president Pierre Lescure to act sooner. The Official Selection announcement is also now expected to take place at a later date.
The announcement seems to have split the industry with some professionals approving of the delay and keeping their fingers crossed that it will go ahead, while others are critical of its open-ended nature, saying the uncertainty is "unhelpful".
Lawrence Atkinson, CEO at London and Los Angeles-based PR firm DDA, was one who welcomed the move.
"Cannes' choice to postpone, rather than cancel, is just the sort of optimistic sign the industry needs at a time like this. If Thierry, Pierre and the French authorities have the confidence and belief that by June, July the curtain could rise once more on the world's pre-eminent film festival, then I hope the industry rallies round in support," he said.
Atkinson acknowledged film professionals might still be wary about travelling to Cannes for the Marché du Film but said DDA would be looking at ways to make it work.
"There will likely still be nervousness around travel and group gatherings – possibly even ongoing restrictions – but we would certainly explore ways to responsibly make it work if world health advice permitted. The prospect of taking a meeting on the Croisette sure beats working from home."
Cannes stalwart and Wild Bunch co-chief Vincent Maraval said there was a strong desire within the film industry for both the festival and market to go ahead.
"It's a good move given the way and the pace at which things are evolving. The industry wants Cannes and its market to go ahead but it's impossible for anyone to make declarations right now."
Maraval suggested the timing of late June, early July should not be too problematic for the industry. "In the end, it's only a month's delay which would be good news for the directors, who are pushed for time, and also for us, because we could get ahead with our materials."
Wild Bunch is among a group of US, French and UK sales companies that is developing a free-to-access virtual market platform should Cannes not go ahead and Maraval said the consortium was continuing to work on "plan B" in case the pandemic lasts longer.
Nicolas Brigaud-Robert, co-chief of Paris-based Playtime concurred on the suitability of the potential timing of end-June, start-July.
"We feel these are smart dates we can work with. If it ends up happening, it shouldn't jeopardise much of our business," he said. "It was a wise and courageous to make the decision right now, rather than wait for April 15. It was the best move, it was very respectful of all of us in the business and we should thank Thierry Frémaux and the organisation for that."
Jean-Christophe Simon, CEO of Berlin and Lyon-based sales company Films Boutique, expressed "relief" Cannes had taken finally taken a decision rather than waiting for April 15.
"The situation is clearly not an easy one to establish proper strategies for films but we are somehow relieved that they officially confirmed that the festival is postponed. At least now we have a direction and we can adapt ourselves to be working focusing on a hopefully realistic objective. Uncertainty was the worst for us in the last weeks."
He said that the company had not changed its festival strategies for the films on its sales slate but added that some of them are now delayed due to the fact shoots had been shut down or post-production was on hold amid the Europe-wide lockdown.
Like Atkinson, Simon said if Cannes went ahead Films Boutique would definitely attend but questioned whether many buyers would make the trip this year.
"Depending on the health situation we will probably attend the festival with less people from the company than usual," he said. "The health of our team is our first concern. Many buyers from different areas will probably not attend the festival which will of course change our way of operating as well."
The company is also paying close attention to the Marché du Film's plans for a virtual market which will run regardless of whether there is a physical festival and market or not.
"We are curious to know more about their plans. We see this as a very promising experiment," said Simon. "The way film markets are currently taking place, with thousands of people flying overseas to different places for different events, is probably neither sustainable nor efficient anymore in the way we were doing it. We are very excited to see that the festival and the Marché embrace this problematic issue so quickly.
"They already have a strong expertise on the field with Cinando and their other digital tools and we believe they are in the best industry position to make it work on a big scale. We will be happy to be part of it when we'll know more about their precise plans."
Uncertainty is "unhelpful"
Not everyone felt quite so positively about the festival's announcement.
Bankside Films director Stephen Kelliher said the fact that Cannes had taken so long to act had "been unhelpful".
"It has made it impossible for stakeholders to plan ahead and manage their businesses effectively at a time when many are out of pocket with costs already committed to Cannes attendance and no guarantee that they can be recovered," he said.
Kelliher said the lack of clarity over whether it would take place was also problematic. "The open-ended statement yesterday does nothing to alleviate these concerns. I don't see how the international market can plan around a potential date shift to June or July and whether that is even realistic, given the current situation which is likely to go on for months.
"This uncertainty is also not good for the films and the filmmakers who had hoped to screen in Cannes this year. Planning is still at the early stages but it seems most likely that we will conduct our business remotely from London and will engage with distributors directly on new and existing projects on the original Cannes dates because it is impossible to wait for further clarification."
Flanders Image manager Christian De Schutter echoed these sentiments.
"Late June, early July is I would say quite optimistic," he said. "The announcement remains also rather vague… Several options are studied. In other words: the only thing we know is that the festival won't take place from 12 to 23 May. But what we do not know is if or when it will happen. In other words, there's even more uncertainty."
There are of course a few questions all of us have. Firstly, did Cannes reach out to, or are they in contact with events or fests such as Karlovy Vary to discuss this option? Moving the fest to the start of the summer holidays probably indicates that local authorities and businesses are not expecting lots of tourists [in Cannes]."
He also questioned whether there would be sufficient films for Frémaux to build his Official Selection. "I don't think that Cannes will be interested in presenting a programme that does not reach the usual standards," he said.
In the event it does go ahead, De Schutter, like many of the professionals canvassed, thought virtual activities would become more important.
"Most business will happen virtually, online instead of on-site. I would like to find out more details about the virtual market platform the Cannes Film Market and Cinando are working on."
Can new dates really work?
Others questioned whether the end-of-June, start-of-July dates were really feasible.
"At this moment everything is up in the air and it is really hard to say if late June/early July is doable. Will people really go to Cannes at that stage? It seems that no matter what some kind of virtual market will be needed. And of course, there is the whole logistic around offices, hotels and apartments to stay in as the tourism period has started at that time," said Susan Wendt, managing director at Copenhagen-based sales company TrustNordisk.
Lizette Gram Mygind, festival consultant for the Danish Film Institute, was even more doubtful of the end-June, start-July plan.
"It's totally unrealistic. Other parts of the world such as Africa, North and South America, Australia, UK are just shutting down now. It will take some time to get back to the "normal". The international guests will be scared of coming so soon. And it is doubtful that international guests even will be allowed into the country.
"Think of China," she continued. "They are just now getting on with their lives, with many restrictions, five months after the virus was detected. The digital market solution is more feasible, but we still need to see how it will be tied to the festival. This is an important element as well."
She said it was unlikely that there would be a large Scandinavian institutional presence at the festival if it does go ahead.
"We have just cancelled our apartments today. We still have not had the discussion within Scandinavian Films (Norway is in charge of organising the Scandinavian Terrace) but I think we will decide quite soon that the Scandinavian Terrace will be closed in May.
"It's still too soon to tell if we will have a physical presence during new dates, if they end up being confirmed. We will need a more stable plan from the festival before this decision is made. But probably unlikely if we're looking at the suggested late June/early July dates. At least I predict that our presence in such a scenario would be reduced."
Kirsty Langsdale, head of international publicity at London and LA-based PR firm Organic, sympathised with the doubters but said her fingers were crossed that the festival would go ahead.
"The optimist in me wants us as an industry to look ahead to late June and for Cannes to go ahead, even in a much reduced format. We all need that hope right now. For us, it's about responding to the situation the film industry globally now finds itself in and adapting quickly and creatively," she said.
Watch and wait
Many of the companies Screen spoke with said they were taking a "watch and wait" approach.
"This is an unprecedented period and we are closely following the global situation, as well as the effects on our film community and our audiences," said a spokesperson from the UK's Altitude Media Group, which usually sends a contigent of both acquisitions and sales executives to Cannes. "The recent Cannes announcement has shown that there are multiple paths ahead we will adapt to ensure business continues as usual."
Wendt, in the meantime, was already looking further into the future.
"The next question is, of course, what will happen with the autumn festivals – Venice. Toronto etc. If there will be a second wave of Covid-19, will that collide with the autumn festivals? And what happens with all the films that had to stop in the midst of shooting or had to postpone the shooting start?
"Already now there has been severe human and economic impacts to the world in general, but also to the film industry, where many companies from all sides of the industry are suffering and it is still too early to say how big the damage is going to be."