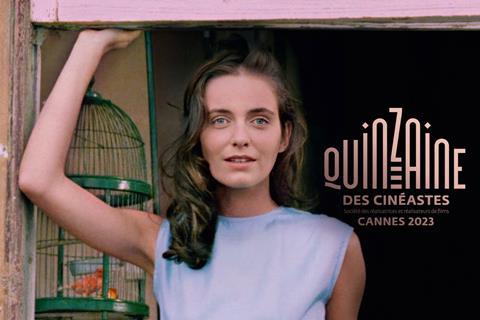 Cannes' Directors' Fortnight (La Quinzaine des Cinéastes) has unveiled its 2023 poster ahead of its 55th edition complete with a new name and a new artistic director.
The 2023 poster features an image of Portuguese actress Leonor Silveira in tribute to Manoel de Oliveira's 1993 feature Abraham's Valley (inspired by Gustave Flaubert's Madame Bovary) and celebrates the 30th anniversary of its selection at Directors' Fortnight that year.
Founded in 1969 by France's directors' guild the SRF (Société des réalisateurs de films), Directors' Fortnight is heading into its 55th edition with a complete makeover. Julien Rejl was appointed as the new artistic director last June, following Paolo Moretti who signed off after last year's edition following three years in the position.
Rejl promises this year's edition will take audiences "on a journey through singular, free-spirited and subversive films".
Rejl previously headed up distribution, international co-productions and international sales from 2010-2020 at Capricci, an arthouse film company based in Paris.
While its English-language identity remains unchanged, the section has officially changed its name from La Quinzaine des Réalisateurs to La Quinzaine des Cinéastes in an effort to be more inclusive. "Réalisateurs" is the masculine form of the word "directors" in French, while "Cinéastes" is the word for "filmmaker" and can refer to any gender.
The sidebar's organisers also announced a new selection committee in September that they called "gender equal and eclectic" including seven programmers and four consultants.
The 2023 Directors' Fortnight runs in Cannes from May 16-27.