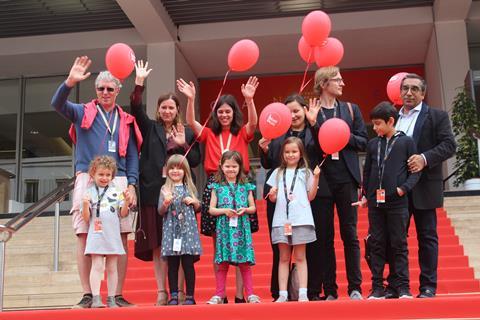 Cannes' family-friendly initiative Le Ballon Rouge will return next year with an expanded remit after being declared a success in its inaugural edition.
The organisers of the joint venture between the Cannes Film Festival, the Cannes Marché and the Parenting at Film Festivals group, a collective of industry professionals with young children who spearheaded the initiative and raised funding for the childcare facilities, said 120 families had been registered through its new family-friendly accreditation service.
It offered additional badges for children and accompanying nannies and grandparents free-of-charge.
A further 25 children had benefitted from dedicated childcare facilities situated in the International Village of the Cannes Marché overlooking the old port.
"Now that we have understood the needs, the importance and the volume of the demand, we will expand this next year. In 2020, Le Ballon Rouge will be strengthened in size, services and infrastructure," said Cannes Marché chief Jérôme Paillard on Thursday (May 23).
The new scheme, bannered Le Ballon Rouge after the 1956 classic short film, was launched this year to support film industry professionals in attendance with babies and young children.
The initiative involved a core team of four nannies, one nurse, nine local Cannes volunteers, 15 film professional parents and eight members of the Marché staff.
"No other festival has ever tried to welcome and support parents to this level and in this way before," suggested Paillard. "A lot of festivals have been asking us how it went. I think we'll be seeing this model being adopted at other film events."
Parenting at Film Festivals co-founders Sarah Calderon, CEO of cinema marketing consultancy The Film Agency, and Aurélie Godet, who is a programmer at the Berlinale, said they hoped the Le Ballon Rouge model would be adopted by other festivals.
"We're here to inspire our industry and the society in general, to create initiatives that contribute to work-life balance," said Godet. "Many movements for change have started in cinema before expanding to the rest of society, and this is the case again. The festivals are listening and we're teaming up with them to bring practical solutions."
The organisers said a number of top film festivals – including Rotterdam, Toronto, San Sebastian, the Berlinale, Annecy and Venice – visited the dedicated children's pavilion to learn about the initiative and assess what they could do too.
The European Commission's Media programme also included Le Ballon Rouge among the three best practices contributing to gender equality, while the American Pavilion hosted a networking playdate and the festival itself curated a screening called Petit Héros for the smallest and most important visitors this year.
Olimpia Pont Chafer - a user of the crèche, registrations coordinator and active member of Parenting at Film Festivals - said the success of the initiative was born out by feedback from the parents.
"They felt supported, cared for and found a great balance spending their days in Cannes together with their families. We are now a solid and united community and will contribute to expanding this kind of initiative around the world creating groups in each territory," she said.
"The most important part is ultimately that the kids really felt like the new VIPs. They were happy to have their own accreditation, their bag, and their space, be next to their families, and the same time enjoy, dance and play with their new international friends."
Michelle Carey co-founder of Parenting at Film Festivals added: "Our priority was the security, health, tranquillity and joy of our children. We dedicated days and nights over two months to set this unprecedented project for them and for their future," she said. "The message is out there: if we managed to set a day-care in a harbour at the Côte d'Azur, this can be done anywhere."