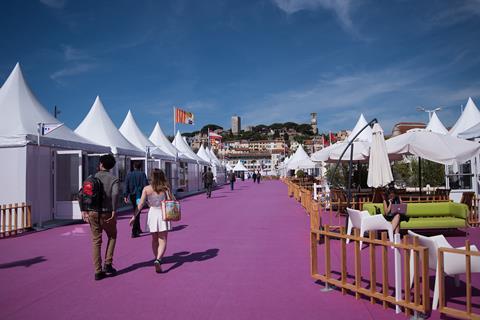 The Cannes Film Festival and Marché du Film announced on Tuesday that they are launching a new initiative, aimed at supporting film industry professionals in attendance with babies and young children at their upcoming editions this May.
Bannered 'Le Ballon Rouge, Where Children Are The New VIPS', the initiative marks the first time a major film festival anywhere in the world has offered a comprehensive package of family-friendly services to industry attendees.
It has been created in collaboration with the newly-launched Parenting at Film Festivals group, a support network and lobby group set-up to help parents in the film industry whose roles necessitate lots of travel.
Under the programme, the Marché, which marks its 60th anniversary this year, will offer a package of five key services to cinema professionals attending with babies and young children.
These include a family-friendly accreditation process, giving two additional badges for a nanny and baby free of change; a dedicated kids' pavilion; a baby changing and breast-feeding corner; priority and easy access for parents with young children and strollers, and a Le Ballon Rouge baby VIP kit, containing a map and guide detailing family-oriented services in Cannes such as certified nannies for after-hours care.
The Le Ballon Rouge Kids Pavilion will be located in the Village International Pantiero and will be open from 10am to 6pm from May 14-21.
Parents can either spend time with their children in the beachfront space or leave their children for up to six hours in the care of professional nannies. There will be a small charge for the latter service.
The Marché du Film said it had invested in the infrastructure for the project while Parenting at Film Festivals raised funds for the childcare service through an express crowdfunding campaign.
More than 12 companies and institutions have supported the initiative financially.
The backers comprise French cinema export agency Unifrance, the Marché's digital platform Cinando, producers training and development platform EAVE, Berlin's baby-friendly arthouse Wolf Kino theatre, marketing experts The Film Agency, French film company Pyramide, Australia's Madman Entertainment, sales agent body Europa International, and sales agents Film Constellation and Charades, and French sales agents body ADEF.
The UK's parents group Raising Films and France's gender equality collective 5050X2020 also provided support and advice to Parenting at Film Festivals to help bring the initiative to fruition.
In addition to these services, the Marché has also agreed to host the Parenting at Film Festivals group on its Cinando platform to help promote and identify the community and its needs.
Cannes Film Festival general delegate Thierry Frémaux and Marché du Film executive director Jérôme Paillard jointly acknowledged that it can be difficult to combine parenthood with a career in film industry, especially for women
"Although the ever-present issue of work-life balance affects everyone, regardless of gender, we know the impact on women is much greater," they said in a joint statement.
"There is much work to be done by major festivals to make their infrastructure and services family-friendly, to more effectively enable participation of women in the industry, who will benefit from a better balance and thus more success. We are excited to lead the way among major festivals and hope other festivals will follow."
The Parenting at Film Festivals group is spearheaded by festival programmer Aurélie Godet, cinema marketing expert Sarah Calderon and former Melbourne International Film Festival artistic director Michelle Carey.
It said in a joint statement it was "heartened and amazed" by the fact that the festival and Marché had listened so intently to their concerns.
"They embraced the vast majority of our proposals and are seriously considering the rest for 2020 once the demands for these services have been evaluated. We believe this will pave the way for an unprecedented new children-friendly journey that other festivals can take inspiration from."
The 71st edition of the Cannes Film Festival runs May 14-25. The 60th edition of the Marché du Film also kicks off on May 14 but closes two days earlier on May 23.
The five-point Le Ballon Rouge initiative in full (details provided by the Marché)
1. Family-Friendly Accreditation Process: Film professionals travelling with babies and young children will have a special accreditation in order to access the dedicated services the Marché is providing, including the Pantiero's Kids Pavilion and the Palais' Change & Feeding Corner, as well as two additional badges for nanny + baby (free of charge). Cinando will host on its site the newly-created group Parenting at Film Festivals to better identify the community and its needs.
2. Le Ballon Rouge Kids Pavilion: located at the Village International Pantiero, this 25m2 tent with terrace will welcome families from 10 am-6 pm daily from the 14th until the 21st of May. There, parents can choose to either spend time with their children, have family-friendly meetings in dedicated areas, or leave their children for up to 6 hours in the care of professional nannies provided by a specialised company. This special service will be offered by a cluster of partners - full list of partners below in How was this set up?. A small compensation will be asked to parents wishing to benefit from this service.
3. Le Ballon Rouge Express-Changing & Feeding Corner: a dedicated room for parents and carers for breastfeeding, feeding or nappy-changing, will be open from 9 am-6:30 pm daily from the 14th until the 25th of May in the Palais des Festivals.
4. Easy Access: priority access to the Marché will be given to parents entering with children at the Palais' main entrance, Riviera entrance and Pantiero entrance. As the stroller approaches with its dedicated Ballon Rouge flag, staff will help them through security.
5. Le Ballon Rouge Baby VIP Kit: in collaboration with Parenting at Film Festivals and Cinando, a dedicated bag for children will be offered, with family-friendly map and services in Cannes, Marché access flag, list of certified nannies for after-hours care, and other helpful items.