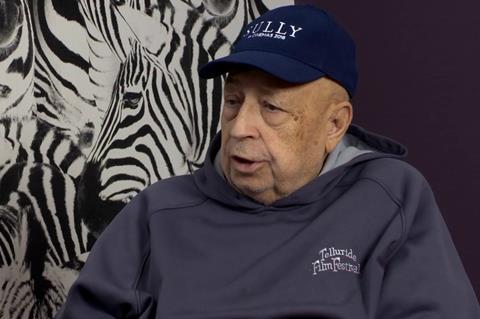 The Cannes Film Festival has paid tribute to its long-time, multi-hatted collaborator Pierre Rissient who passed away on the eve of the 71st edition which kicked off today.
"We are deeply saddened by the news that the cinephile, historian and director Pierre Rissient died this weekend, aged 81. That is why we would like to pay tribute to him, on this opening day of the 71st Cannes Film Festival," the festival said in a statement, signed off by president Pierre Lescure, delegate general Thierry Frémaux, director of the film department Christian Jeune and all the festival team.
"For more than fifty years, Pierre was one of the most important members of the Cannes community and of the festival, putting all of his creative energy into helping it show films from distant countries. We would wait for him to arrive on the Croisette every year with a mixture of joy, impatience and some nerves too because he had such strong and original views on cinema and on the Festival de Cannes."
Rissient is credited with introducing many now established filmmakers to Cannes over the years, including most notably Australian director Jane Campion, whose work he championed, bringing then delegate-general Gilles Jacob footage from a trio of her first short films.
Jacob programmed all three works in 1986 and one of them, An Exercise In Discipline-Peel, clinched the Palme d'Or for best short film that year. It was the beginning of a long, ongoing relationship between the festival and Campion, who would go on to win the Palme d'Or for The Piano in 1993.
"There will be much to say about the importance of this behind-the-scenes operator; many people will do so in the coming days, months and years. Today our thoughts are with his wife, Yung Hee, his sister, Anne-Marie and her husband and children," the festival statement continued.
"We think of his close friends, who are also close friends of the Cannes Film Festival: Bertrand Tavernier, his fellow cinephile for 50 years; Jane Campion, who Pierre discovered on one of his many trips to Australia and who he championed all the way to the Palme d'Or; Clint Eastwood, with whom he had an unshakeable bond; Claire Denis, whose artistry in directing he loved so much; Quentin Tarantino, who loved hearing him tell Hollywood stories that even he didn't know; Jerry Schatzberg, who says he is grieving for him like a brother."
The statement also named Martin Scorsese, saying Rissient had helped get Mean Streets – which played in Directors' Fortnight in 1974 - to Cannes; Tom Luddy, co-founder of the Telluride Festival, who named one of its theatres "The Pierre" in his honour, as well as Busan International Film Festival co-founder Kim Dong-ho.
The list continued with: "Todd McCarthy, Benoit Jacquot and Pascal Mérigeau who dedicated documentaries to him, Michel Ciment with whom he had unforgettable verbal jousting, Samuel Blumenfeld who consigned his memories to a book and the journalist friends who he would gather at his legendary pre-Cannes dinners, which leaked crazy rumours and during which the future prizewinners would emerge, in a spirit of good humour and mischievousness."
The festival noted that the 71st edition also bears the hallmark of Rissient's influence.
"This year of 2018 was once again going to be "his" year. Pierre Rissient was due to bring back to the festival the Korean director Lee Chang-dong, who he had greatly helped to become known around the world, as he had done with so many others before. He was delighted to be welcoming to Un Certain Regard the second film of the young Chinese director Bi Gan," read the statement.
Rissient was also due to present his 1982 film Five and the Skin – starring Féodor Atkine as a man walking through Manila in search of his past – at Cannes Classics this year, some 26 years after it first premiered in Un Certain Regard. A restored version is due to be re-released in France on May 30 in a joint operation by TF1 and classic films specialist Carlotta Films.
"That screening on Monday, May 14, attended by Bertrand Tavernier, will be in memory of Pierre Rissient and will be our way of dedicating this 71st edition of the Festival de Cannes to him," the statement read.
"The last time we spoke to him, this great literature lover thought that Marcel Proust's quote described well his sense of the meaning of existence « To what purpose shall I walk among these trees if there is nothing left now of the assembly that used to gather beneath this delicate tracery of reddening leaves, if vulgarity and folly have supplanted the exquisite thing that their branches once framed."
"It is our fervent wish to follow the example of cinema's adventurers, from Roger Ebert to Dan Talbot, from Jean Hernandez to Pierre Rissient. In memory of those who took such pleasure in helping younger generations, it is incumbent on all of us who believe in the future of cinema to ensure that these festival goers-cinephiles-explorers and travellers never fade away," concluded the statement.