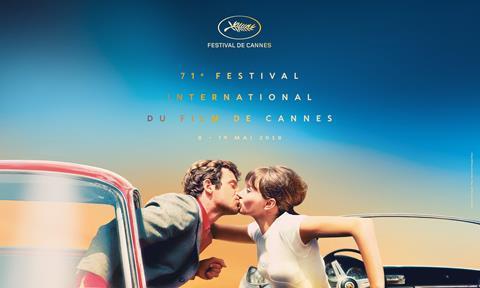 A still image from Jean-Luc Godard's 1965 film Pierrot Le Fou of Pierrot (Jean-Paul Belmondo) and Marianne Renoir (Anna Karina) kissing features in the official poster for the 71st Cannes Film Festival.
Released ahead of tomorrow's (April 12) Cannes line-up announcement, the poster is based on a still taken by photographer Georges Pierre, who worked on films by Jacques Rivette, Alain Resnais and Louis Malle amongst others, as well as Godard.
He also founded the Association des Photographes de Films, with the intention of defending the interests of cinema photographers.
Graphic designer Flore Maquin has worked on the poster itself, following her work with Universal Pictures, Paramount Channel, Europacorp, Wild Side and Arte.
Cannes 2018 runs from May 8-19, opening with Asghar Farhadi's Everybody Knows starring Penelope Cruz and Javier Bardem. Ron Howard's Han Solo origin pic Solo: A Star Wars Story has been announced for its world premiere in competition, with Cate Blanchett presiding over the Jury.