EXCLUSIVE: Mustang producer CG Cinema and Son Of Saul distributor Ad Vitam launch Alma Cinema.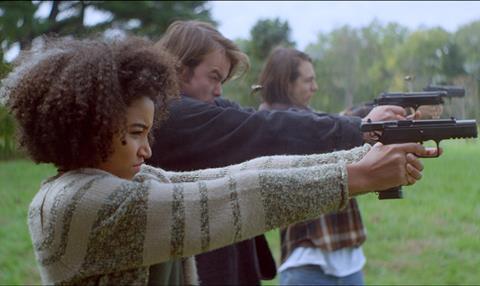 Oscar-nominated producer Charles Gillibert (Mustang) is joining forces with French distributor Ad Vitam to launch independent sales company Alma Cinema.
The partners have brought in sales and acquisition executive Sara May, formerly of TF1 and Embankment Films, to head up the new structure, which aims to handle some dozen titles a year.
"It will be in the vein of what the Americans and Brits call a 'one-stop shop' company, seeking out, financing and selling films under the same roof," said May.
"Our aim is to create a structure offering producers support from the financing stage right through to its delivery, even if we don't necessarily end up being involved in every stage."
May will also be free to acquire films and projects unrelated to either CG Cinema and Ad Vitam's activities for world sales.
Her first world sales acquisition is Sundance hit As You Are, the critically acclaimed debut film of 23-year-old US director Miles Joris-Peyrafitte.
The 1990s-set tale of two young misfits who form a bond after their single parents move in together won the Special Jury Prize at Sundance this year.
"It's an extremely accomplished work for such a young director. Cannes will mark its international launch," commented May, who will be market-screening the film.
In the long run, Alma Cinema's founding partners Gillibert and Ad Vitam managing director Alexandra Henochsberg (whose team also includes programming and acquisitions manager Grégory Gajos and marketing chief Arthur Hallereau) – want Alma Cinema to support their involvement in internationally focused projects.
'The company was born out of our shared interest in a certain type of cinema and approach to the industry. I've always tried to work on projects which are international in nature while Ad Vitam is one of the reference distributors in France for French as well as international independent cinema. Alma Cinema will be a tool which will help us work internationally."
Ad Vitam's acquisition chief Gajos said the new structure would enable Ad Vitam to board projects at an earlier stage than it currently did as a distributor.
"Even if we have a proven ability in spotting and accompanying talents and strong links with producers and directors, as a distributor you can arrive a bit behind the curve in terms of a project's development," he said.
Non-exclusive alliance
Both Gillibert and Henochsberg stress the fact that they do not want the creation of Alma Cinema to impact long-standing relationships with directors, producers and sales companies and that both parties will be free to work with other partners if it makes more sense on individual projects.
"It will really depend on the projects we're working on. There's no exclusivity," said Gillibert.
"We won't be expecting directors or producers we've worked with over a long time to bring their films to Alma. It's not our goal," said Henochsberg.
Impressive track records, international focus
Gillibert, who cut his producing teeth at MK2 before branching out on his own to create CG Cinema in 2013, will be in Cannes this year with Olivier Assayas's Palme d'Or contender Personal Shopper, after a busy 12 months which saw him head to the Oscars with Deniz Gamze Ergüven's foreign language nominee Mustang.
Other recent credits include Mia Hansen-Love's Things To Come, which won the Silver Bear in Berlin for best director. Although working mainly with French-based directors to date, he takes an international approach to the financing of his projects as well as their distribution.
Ad Vitam is one of France's key distributors of both French and international, independent cinema. As well as handling Oscar-winner Son Of Saul and nominee Mustang, the company has also recently released director Santiago Mitre's Paulina and Jia Zhangke's Mountains May Depart and French pictures Gang Bang and Pascal Bonitzer's upcoming Tout De Suite Maintenant.
Its upcoming slate includes Cannes Directors' Fortnight titles Sweet Dreams by Marco Bellocchio, which opens the parallel section, and Sacha Wolff's Mercenaire as well as the Lebanese drama Tramontane which will premiere in Critics' Week.
The company previously distributed Gillibert-produced Eden as well as Mustang.
Prior to accepting Gillibert and Ad Vitam's offer to head up Alma, May was based in between Paris and London, working for Embankment Films, steering European sales, co-productions and acquisitions.
Before that, she spent nearly a decade as EVP of acquisitions and co-productions at TF1, spending a week in every month in Los Angeles at one stage as part of her role sourcing, developing and packaging projects for the international sales division.
"Where I complement Charles and Ad Vitam is with my ability to source Anglo-Saxon and US projects and to offer a structure like this in Europe for English-language projects. It's one of the things that will distinguish us from other sales agents in France."
Ad Vitam chief Henochsberg said it was May's international experience which had led them to approach her to head up Alma. "When we started developing the idea of this alliance it wasn't to create a Franco-French company, handling films only by Charles or other French producers. When we approached Sara, it was her international experience which interested us. We thought it would be interesting to bring that to a France-based company."
Cannes 2016
For its first Cannes outing, the company will be based out of the Silencio, the pop-up version of the Paris restaurant-club designed by David Lynch, which has set up during the festival in recent years.
"It's really the beginning. We've only been up and running for a month. So the idea is to launch  As You Are as well as present the new structure and meet with other producers and projects," said May. "There may be some other acquisitions but we're working on that now."