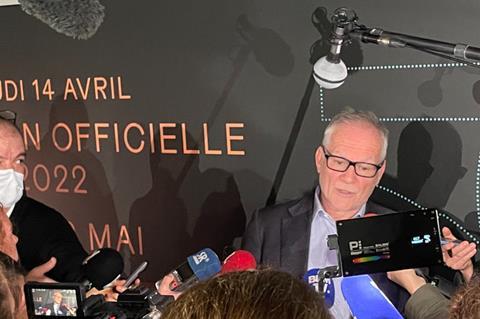 Cannes Film Festival delegate general Thierry Frémaux, accompanied by president Pierre Lescure as he embarks on his swansong edition, took to the stage of the Normandie UGC cinema in Paris on Thursday (April 14) to unveil the Official Selection for the 75th edition.
Frémaux announced 47 titles and promised a handful of additions in the coming days, although he made it clear his aim is to rein in the line-up to under 60 films, after the bumper 83-title Official Selection of last year's special July edition.
He also revealed details of the 75th anniversary celebrations which will include a symposium looking at the future of film. The festival is also getting behind a documentary inspired by Wim Wenders' 1982 work Room 666, in which he interviewed major filmmakers in room 666 of Cannes's Hotel Martinez on their thoughts about the future of cinema.
This year marks a return to some sort of normality at the festival as the world slowly emerges from the two-year Covid-19 crisis. The event is back in May, albeit on the slightly later dates of May 17-28 due to the final round of the French presidential election on April 24.
Attendance is also expected to get back on track with 30,000-35,000 accredited guests compared to around 20,000 at last July's edition.
In the backdrop, however, it is still proving a challenging time for cinema as theatrical audiences for independent films remain under pressure while streaming platforms forge ahead. In an added challenge, the Russian invasion of Ukraine is also likely to cast its shadow on 75th anniversary celebrations.
Screen caught up with Frémaux after the press conference, to touch base on this year's selection and the present and future challenges facing cinema.
The festival celebrates its 75th edition this year but the line-up feels more sombre than usual.
Yes and no. The opening film [Michel Hazanavicius's Z] is a comedy. If Cannes feels more sombre it's because the artists are feeling sombre. It's because the world is feeling dark. But I don't think Cannes will be too dark. Will it be serious? Yes. There are serious questions being raised by artists.
You talked about the pandemic and the war in Ukraine as difficult events in the backdrop to this year's edition. There are also the French presidential elections and the rise of the extreme right in the first round of voting last weekend. Is that something that worries you?
No. Professionally, it's not my subject. Cannes is a cinema festival, and I have a professional role. What I think personally won't interest anyone. The presidential election is a democratic process that is perfectly respected. I don't see how it matters other than in our private lives. The Cannes Film Festival is not there to give its opinion on a political matter.
But the arrival of far-right candidate Marine Le Pen in power as president would have an impact on the French cultural sector. Le Pen has already said she will favour policies focused on French culture, while France's cinema world including Cannes tends to be very international in its outlook.
It's a hypothetical situation. For the moment she is not the president and we'll see what happens. In the regional elections, her niece [Marion Marechal] was on the verge of winning in the Cote d'Azur. It didn't happen. So let's wait and see what happens on April 24.
You have been artistic director and then delegate general of the Cannes Film Festival for 21 years, so in charge now for nearly 30% of its 75-year history. How do you see your legacy in this time?
We did a lot of things about the history of Cannes for the 70th anniversary. For the 75th anniversary, we don't want to look back. We want to look at the future of cinema. This 75th anniversary edition is taking place in a year that the world is emerging from the Covid crisis and when there's a war in Europe. It's also a moment in which cinema is facing a crisis and when questions are being raised, not about its future, but the shape of its future. That's the point we want to address, what we want to start thinking about. It's obvious – even in France which is blessed with a large number of cinemas and a large audience – that things aren't forever. So we have to ask those questions.
The 75th anniversary celebrations will feature the filming of a new work inspired by Wim Wenders' 1982 documentary Room 666, in which he asked filmmakers, "Is cinema a language about to get lost, an art about to die?" Can you give more details on this project?
The director is a young director called Lubna Playoust. The idea is to do exactly the same thing 40 years later and compare the replies. Today, everyone is working but it's a different situation. They're working on series, films or one-offs for platforms. People are less available than they were before.
On the topic of platforms, there's a widely-held expectation that the upcoming arrival in July of former WarnerMedia executive Iris Knobloch as president, replacing Pierre Lescure, could result in a softening of Cannes' stance towards films produced by platforms and not guaranteed a theatrical release.
Pierre was already in agreement with me on opening the door to platform films. It's the board, the exhibitors and the CNC [National Cinema Centre] that are against such a move. There are rules, we asked them to change the rules, they don't want to. We'll continue to talk and reflect.
My job is to raise the question of the existence of the platforms. In 2017, we were the first to invite Netflix [with the selection of The Meyerowitz Stories and Okja]. We did it very early on. Afterwards, they told us that the rule was that films had to be exhibited in French cinemas. And Netflix can't release films because of the French media chronology. So we'll see what happens. I think the dialogue will continue. I really want the dialogue to continue and we need to evaluate the chances of the situation evolving.
The fact that Venice is able to select platform films gives it an advantage when it comes to securing films for its selection. Is this something that you discuss with the Cannes board?
Berlin, Cannes and San Sebastian, we're all in the same position. It was in the strategic interest of Venice to open its doors to the platforms, especially after we started it in 2017. We later stopped the process, the Cannes board didn't want to continue. Today it's clear that the question needs to be re-examined. It already has been. Discussions are open because the situation has changed. To take the example of Netflix in France, it works with many French producers.
Netflix is currently running a big advertising campaign in cinemas during the trailers section. It's an interesting move.
It's a bit of contradiction: the theatres forbid Netflix at Cannes but they take Netflix advertising
Your partnership with Pierre Lescure as president appears to have been a very fruitful one?
Yes. Pierre is a man who makes things possible. He left me a lot of freedom. He was also very active and Pierre is made legitimate by his own personal story. He founded Canal Plus, he knows everyone including artists and journalists. And he is leaving in a magnificent manner. He's saying, "I don't want to cling on to my role. It's my third mandate and after it comes to an end I would like to leave my place to someone else." And that's Iris. She's on her way.
The place of the US platforms at Cannes may still be up for discussion but the US studios will be back in force this year. Did you work hard for this to happen?
People say the Americans are coming back. They never left.
The big studio highlight will be Tom Cruise's presence for the world premiere of Top Gun: Maverick. Why were you so keen to have Cruise as a guest of honour at the festival?
He's a man who fully embraces his stardom. He's a defender of cinema in theatres and he is above all an actor and producer. Even his most average work sets the bar high. All his projects, starting with Mission Impossible, which is an extraordinary franchise, are projects that have a very high artistic quality. That's also what we want to recognise: not just that he's a star, but he's a star who makes good cinema.
Was it difficult to convince him to come?
The film [Top Gun: Maverick] was supposed to come out in 2020. Already in 2020, with Jim Gianopulos, the head of Paramount at the time, I had started saying it would be a good idea. Then in 2021, the film was pushed back. But now with the new CEO of Paramount Brian Robbins and with Tom Cruise himself, it happened. We're going to do a beautiful tribute.
Elsewhere in the Selection, Cannes has shown its solidarity with Ukraine by selecting two films by Ukrainian filmmakers: Sergei Loznitsa's The Natural History Of Destruction and Butterfly Vision from director Maksim Nakonechny. Were there many Ukrainian submissions?
Not many. It's extraordinary that in a country at war, cinema is still alive… [Butterfly Vision] is the story of a young woman who goes to war and is taken prisoner during which time she is tortured and raped and then returns home. You'd think it was shot a month ago even though it is about the Donbas. It's not about rape, it's about the ugliness of war and the gulf between those who have experienced war and those who haven't and how someone who has been to war can't return home and live a normal life. The Americans made films like this after 1945. William Wyler made The Best Years Of Our Lives and now they [the Ukrainians] are making these sorts of films.
Russian dissident director Kirill Serebrennikov's Tchaikovsky's Wife is also selected for Competition. Were you concerned you would get pushback from people calling for a boycott of all Russian culture, in response to Russia's invasion of Ukraine?
We don't want to boycott Russian artists. We want to express the strength of our support for the Ukrainian people and our opposition to the war of aggression being waged by Vladimir Putin. But a dissident cineaste like Serebrennikov, who was prevented from coming to Cannes because he wasn't allowed to travel, will now be able to return. And he's an artist.
In terms of gender parity, only three of the 18 Palme d'Or contenders announced so far are directed by women. Could Cannes have done more to include more films directed by women?
With more films that didn't deserve to be in? We are selecting movies only based on their artistic qualities. There may be one or two extra films directed by female directors.
There appears to be a smaller French presence in the Official Selection this year, was this a conscious decision?
We wanted to include fewer French films this year. Cannes is an international film festival. For people who come from far away, we want them to feel welcome in Cannes. Of course, it's also important that the French industry feels welcome but Cannes is a festival in France, not a French festival. And everyone knows that our primary vocation is to invite films from around the world from Korea, Japan, Algeria, Egypt and Costa Rica.
What's your sense in terms of the Asian presence. Do you think they will return in big numbers?
They are travelling less. The Chinese won't come. They're in the middle of a crisis. When I say we're going to have between 30,000 to 35,000 accredited participants, that's without the Asian continent which will be largely absent.
You have rejuvenated Un Certain Regard these last two years, returning it to its roots as a place for emerging directors with singular visions. This comes at a time when Directors' Fortnight, which is also a place for this type of work, is facing something of a crisis. Do you think your overhaul of Un Certain Regard has put further pressure on the parallel section?
Critics' Week is for first and second films. Its identity is clear. Directors' Fortnight is equally important but it was born out of the arthouse cinema scene of the 1970s. Now, 40 years later, it has become complicated. The type of arthouse cinema defended by Directors' Fortnight is also defended in Official Selection and many different places. With Un Certain Regard, we wanted to not mix everything up. That's why we created Cannes Premiere and Un Certain Regard.
This year, festival president Lescure, Marché du Film director Jérome Paillard and Cannes Cinefondation head Georges Goldstein are all stepping down. Have you thought about your own succession?
I'm a lot younger [laughs] but in all seriousness at a time of transition with the departure of Jérôme and Georges, it's important Cannes has solid foundations. Pierre has been handling his own succession. My turn will come and I will have to think about the next step. There are the presidential elections, there will be a new minister of culture, and then we can reflect.
But you're not implying that you will be leaving in the coming year?
No, as I said, I am still young!