Newly filmed version of the stage production stars Maxine Peake as Shakespeare's Dane.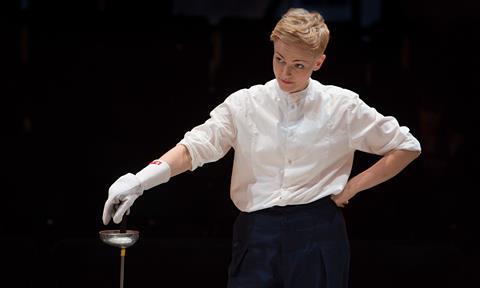 Ahead of next week's Cannes Marche, The Little Film Company has acquired worldwide sales the newly filmed version of Shakespeare's Hamlet, starring Maxine Peake (The Theory of Everything), directed by Margaret Williams. Sarah Frankcom, artistic director of the Royal Exchange Theatre, directed the stage production.
The stage production, filmed using eight cameras, will screen in the Marché on May 18.
Following a successful run at Manchester's Royal Exchange Theatre, Picturehouse Entertainment opened Hamlet across the UK on March 23 in more than 300 cinemas.
The production also stars John Shrapnel as Claudius/Ghost, Barbara Marten as Gertrude, Gillian Bevan as Polonia, Katie West as Ophelia and Thomas Arnold as Horatio.
The film is executive produced for Genesius Pictures by Julian Gleek, Quidem Productions by Ralph Bernard and Simon Cooper, Royal Exchange Theatre by Fiona Gasper, and produced by Anne Beresford and Debbie Gray (Northern Soul).