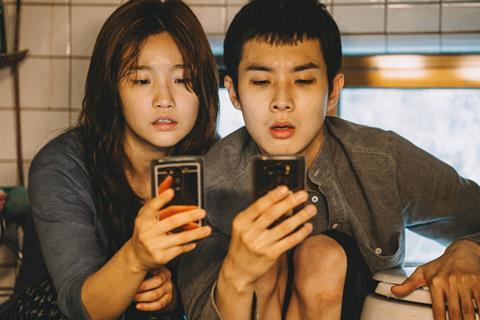 While all the world's sales agents are weighing the potential cost of coronavirus, particularly if Cannes cancels this year's market, Korea's sales agents could be ruing a unique missed opportunity.
This year started off gangbusters for Korean cinema with director Bong Joon Ho's Parasite riding a wave of accolades culminating in the film winning four Oscars including Best Picture – the first non-English language film in the Academy's history to do so.
On the heels of Parasite's success, director Yeon Sang-ho's zombie thriller Peninsula – the highly anticipated follow-up to his 2016 hit Train To Busan – was being tipped as a possible world premiere in Cannes (where its predecessor also debuted), creating the potential for a potent one-two punch for the popularity of Korean films internationally this year.
This sort of phenomenon can have a ripple effect on the international sales prospects for a territory's local productions, but as the COVID-19 pandemic spreads to countries around the world – including France, which went into lockdown on March 17 – Korean sellers are weighing their options and asking what kind of business they'll be able to do if Cannes ends up being cancelled. And if it's not cancelled, should they even go?
Speaking on condition of anonymity, one sales executive from a major conglomerate-affiliated investor/distributor voiced a common concern: "May is not far off and it seems too risky, although we have to keep monitoring the situation. We're more concerned about the spread in Europe and the US in the next month or two, and the people from those places.
"They're unprepared and aren't doing enough tests. It's more dangerous for Koreans once they leave the country. In South Korea, at least things are under control and we have measures in place."
South Korea saw its first confirmed case on January 20 and has so far carried out more than 286,700 tests for a population of roughly 51 million. As of March 17, the country had 8,320 confirmed cases of COVID-19, of which 6,838 were being treated in quarantine, 1,401 had been released from quarantine, and 81 had died.
The same executive pointed out that for whichever festival or market they consider attending in the near future – if it isn't held in a country that is refusing entry to South Koreans outright – they would have to measure up the choice to go against the chance that they might end up travelling to a country that isn't managing the pandemic as well as Korea, and end up getting stuck in quarantine.
"Two weeks in quarantine, and the festival would be over!" they said.
Working in uncertainty
Another independent sales company executive cited concerns that if Cannes does go ahead, it would be impossible to prevent the virus spreading among delegates.
"The Lumiere has more than 2,000 seats. How will Cannes take responsibility if the festival becomes a vector for the spread of the coronavirus?" they said.
A sales executive at another major investor/distributor, also speaking on condition of anonymity, added: "We're all working in uncertainty. We don't know if Cannes will open or not – or whether we can set release dates or not.
"If Cannes is not going to open, they should let us know sooner rather than later so we can make back-up plans. Are they going to make the selection and tell us at the same time it's announced on April 16 that the festival is not happening?"
In the event that the festival and market both proceed, this gives rise to further questions for sellers who have already heard the announcement by UK sales outfit GFM that it has officially cancelled its Cannes attendance and have shared off-the-record stories that buyers and sellers from other countries are considering doing the same.
"Cannes is the biggest film festival in the world and there are people who stake their lives on going there every year," the executive continued. "But if they hold the festival and market despite the cancellations of big companies, it will end up limping along as a sort of half event."
"If they wait until April 16 to tell us the market is carrying on, we will have to rush to create our booth interior and materials for our line-up," said another investor/distributor exec whose company has their employees working in weekly rotations out of the office due to the coronavirus.
They expressed frustration because with Hong Kong Filmart already postponed from March to August, business in the first half of the year has already been impacted.
"The festival needs to sort out their position, preferably by the end of March, and let us know what they plan to do. We've already wired our market booth rental expenses. If the market doesn't happen, will they refund the money, or will they carry it over to the 2021 edition?" said boutique outfit M-Line Distribution.
On the question of whether Korea's sales agents would consider skipping Cannes and going straight to Venice and Toronto, some pointed out how the pandemic has Italy in lockdown and has only started to get traction in the US. "What are you going to do when and if those undiagnosed vectors start to travel to Venice and Toronto?" asked one.
At home, local release dates continue to be postponed, but with hopes that by the second half of the year, the pandemic will have calmed down in South Korea at least, with box office recovering to normal admission levels.