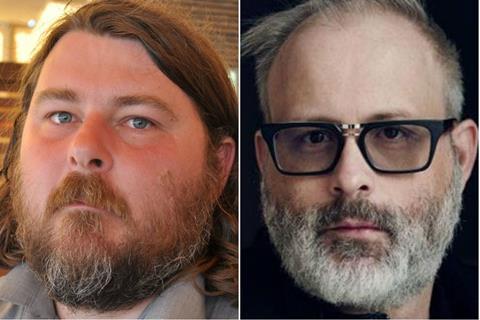 A total of 16 projects have been selected to take part in the Frontières Platform at this year's Cannes Marché du Film, with the second edition of the genre event set to run from May 12-13.
The Frontières Proof Of Concept Presentation on May 12 will include 10 projects in advanced financing stages, presenting completed teaser trailers to prospective partners. Among the 10 are Whitaker directed by Casey Walker, with the Rook Films team of Andy Starke, Pete Tombs and Ben Wheatley producing. It was previously one of the 13 projects in the Frontières Finance and Packaging Forum in Amsterdam earlier this year.
Six features in post-production or recently completed will present in the Frontières Buyers Showcase on May 13, with producers screening footage for buyers, sales agents and festival programmers. Titles in this section include Ghost Town Anthology, a winter-set fantasy drama directed by Denis Côté (Bestiaire), inspired by author Laurence Olivier's 2015 novel.
Frontières has also unveiled the Avanpost Digital Cube Post-Production prize, which will be presented to one project from this year's Finance and Packaging Forum with an award of $150,000 of in kind post-production services through Romanian company Digital Cube.
Now in its second year, the Frontières Platform is a co-presentation between Fantasia International Film Festival and the Cannes Film Festival Marché du Film. It is co-funded by Creative Europe, with the support of Wallimage, Cinema Chile and Telefilm Canada.
Full list of projects
Buyers Showcase
G. PATRICK CONDON'S INCREDIBLE VIOLENCE (Can)
Director: Patrick Condon
Producers: Patrick Condon, Ian Vatcher, Walter Lawlor (The Hunting Party)
GHOST TOWN ANTHOLOGY (RÉPERTOIRE DES VILLES DISPARUES) (Can)
Director: Denis Côté
Producer: Ziad Touma (Couzin Films)
HOUSE OF SWEAT AND TEARS (CASA DE SUDOR Y LÀGRIMAS) (Spa)
Director: Sonia Escolano
Producers: Sonia Escolano, Francisco Javier González (Sudo y lágrimas Films)
Sales Agent: TriCoast Worldwide
LADYWORLD (USA)
Director: Amanda Kramer
Producers: Thomas Burke & Leal Naim (Love and Death Productions), Jamie Dolan and Amanda Kramer.
RIOT GIRLS (Can)
Director: Jovanka Vuckovic
Producer: Laurent Grant (Clique Pictures)
Sales Agent: Alliance Media Partners (Worldwide), XYZ Films (USA)
ZOO (Den/Swe)
Director: Antonio Tublen
Producer: Alexander Brondsted (PingPong Film)
Sales Agent: Seville International
Proof Of Concept Representation
THE BALLAD OF AUDREY EARNSHAW (Can/Ire)
Director/Writer: Thomas Robert Lee
Producers: Gianna Isabella (Gate 67), Thomas Robert Lee, Marie-Claude Poulin (Executive Producer, MCP Productions), Patrick Ewald (executive producer, Epic Pictures), Shaked Berenson (executive producer, Epic Pictures).
CENSOR (UK)
Director: Prano Bailey-Bond
Writers: Prano Bailey-Bond & Anthony Fletcher
Producer: Helen Jones (Silver Salt Films), Kim Newman
GIRL WITHOUT A MOUTH (Tur)
Director/Writer: Can Evrenol
Producer: MO Film - Müge Büyüktalaş
JESUS SHOWS YOU THE WAY TO THE HIGHWAY (Spa/Est/Eth)
Director/Writer: Miguel Llansó
Producers: Sergio Uguet de Resayre (Lanzadera Films), Alasti Kino
THE MONSTER WITHIN (Chile/Den)
Director: Rodrigo Susarte
Writer: Valeria Hofmann
Producers: Florencia Larrea & Gregorio González (Forastero), Lene Borglum (Space Rocket Nation)
THE PAPER TIGERS (USA)
Director/Writer: Tran Quoc Bao
Producers: Michael Velasquez, Al'n Duong, Yuji Okumoto, Dan Gildark (Beimo Films LLC)
REUNION (USA/Ger)
Director: Norbert Keil
Writers: Richard Stanley & Norbert Keil
Producers: Gudrun Giddings (G4C Innovation), Sam Sarkar, Daisy Hamilton, Norbert Keil (Wunderbar Film)
TIN & TINA (TIN Y TINA) (Spa)
Director/Writer: Rubin Stein
Producer: Olmo Figueredo González-Quevedo (La Claqueta PC)
WHITAKER (Can/UK)
Director: Casey Walker
Writers: David Suridge & George Perry
Producers: Andy Starke, Pete Tombs, Ben Wheatley (Executive Producer) (Rook Films), Casey Walker (Cave Painting Pictures), Jonathan Bronfman (JoBro Productions)
THE WINTER LAKE (Ire)
Director: Phil Sheerin
Writer: David Turpin
Producers: Julianne Forde, Ruth Treacy (Tailored Films), Patrick Ewald (Executive Producer, Epic Pictures Group)