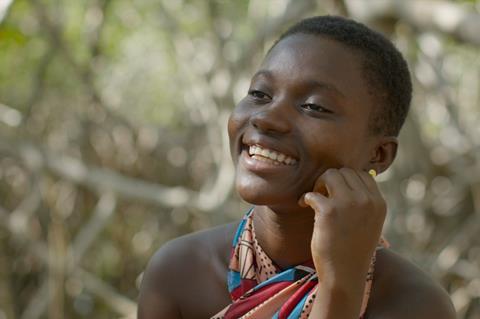 France's Association for the Diffusion of Independent Cinema (ACID) has unveiled the nine independent features it will be showcasing in its parallel Cannes section this July.
International features include Belgium-based director Simon Coulibaly Gillard's debut feature Aya. It revolves around a young girl whose life in a coastal village in the southern Ivory Coast is threatened by rising sea waters.
The selection also features Syria-born Palestinian filmmaker Abdullah Al Khateeb's documentary Little Palestine, Diary Of A Siege about life in the Palestinian refugee camp of Yarmouk outside of Damascus after it came under deadly siege at the height of Syria's civil conflict.
Having world premiered in the hybrid edition of Switzerland's Vision du Reel this April, it makes its French premiere in ACID.
From China, Lin Wang will world premiere debut feature Venus By The Water about a young girl who moves in with her grandmother, aunt and cousins when her mother falls sick and observes the struggle of three generations of women.
French debut features in the selection include Thomas Paulot's The Candidate about a small-town mayoral election that is disrupted by an expected candidate, who unbeknown to the voters is an actor intent on embroiling them in a political fiction.
Pascal Tagnati will physically premiere debut feature A Corsican Summer, after its virtual premiere during the first part of the International Film Festival Rotterdam (IFFR) in February, where it won the Special Jury Award.
Massachusetts-based, French-born director Diego Ongaro will world premiere his second film Down With The King starring real-life rapper Freddie Gibbs as a famous performer disillusioned with the music industry and the pressures of celebrity who moves to a small-town farming community.
Three of the other French selections are documentaries. Nicolas Peduzzi's second feature Ghost Song follows three inhabitants of Houston, Texas, as the city awaits the arrival of a hurricane; Laure's Portier's Soy Libre revolves around her grown-up, younger brother as he grapples with questions of existence, and Claudine Bories and Patrice Chagnard's Vedette charts their growing appreciation of an elderly mountain cow they take under their wing for a summer.
Launched in 1992, ACID's parallel section is aimed predominantly at films that are still looking for distribution in France or international sales agents although some of the selected titles do have these in place, such as A Corsican Summer which is sold by Best Friends Forever. The selection is made by a programming committee of filmmakers only.
Aside from screening the films in Cannes, ACID also aims to connect them with French distributors and help them get programmed in theatres and festivals.
Filmmakers whose works have been supported by the section in the past include Tunisian 2021 Oscar nominee Kaouther Ben Hania, 2021 Berlinale Golden Bear winner Radu Jude and Jim Cummings with Thunder Road which went on to be a breakout hit in France.
The 2021 ACID line-up:
Aya (Bel, Fr)
Dir. Simon Coulibaly Gillard
The Candidate (Fr)
Dir. Thomas Paulot
A Corsican Summer (Fr)
Dir. Pascal Tagnati
Down With The King (US, Fr)
Dir. Diego Ongaro
Ghost Town (Fr)
Dir. Nicolas Peduzzi
Little Palestine, Diary Of A Siege (Leb, Fr, Qat)
Dir. Abdallah Al-Khatib
Soy Libre (Fr)
Dir. Laure Portier
Vedette (Fr)
Dirs. Claudine Bories, Patrice Chagnard
Venus By The Water (China)
Dir. Lin Wan