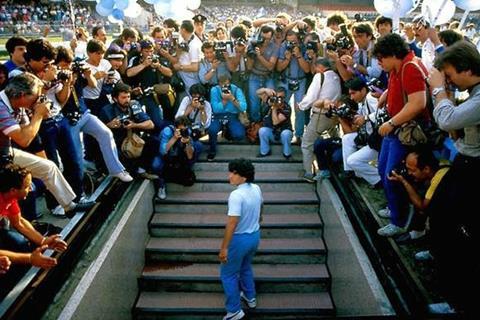 HBO has acquired exclusive US television and streaming rights to Asif Kapadia's documentary Diego Maradona ahead of its out-of-competition slot in Cannes later this month, and will plan an awards-qualifying run later this year.
The film will also be available on HBO on Demand, HBO NOW, HBO GO and partners' streaming platforms.
Diego Maradona draws on more than 500 hours of previously unseen footage from its subject's personal archives and chronicles the tumultuous life of the man regarded by many as the greatest footballer of all time.
Maradona joined the Italian side Napoli for a world-record fee in July 1984 and against the odds led the team to its first league title. While local fans revered him, the gifted Argentine struggled with personal demons and notoriety.
His infamous 'Hand of God' goal against England in the quarter-finals of the 1986 World Cup caused outrage, although nobody could debate the legitimacy and brilliance of his second five minutes later, which sealed England's fate. Argentina eventually won the Cup, beating West Germany 3-2 in the final.
Diego Maradona will receive an awards-qualifying limited theatrical run in the US before the autumn launch on HBO. Kapadia, who directed the Oscar-winning Amy, as well as Senna, also served as executive producer on the film. Altitude will release it in the UK on June 14 and is the international sales agent.
"Diego Maradona has long been considered the greatest footballer ever, and Asif Kapadia's filmmaking perfectly captures every high and low of his transcendent career, from his controversial 'Hand of God' goal to his awakening of Napoli, and more," said HBO Sports executive vice-president Peter Nelson. "We look forward to sharing this landmark documentary with both soccer and non-soccer fans alike."
"My producers and I are delighted to be working with HBO on the release of Diego Maradona in North America," said Kapadia. "HBO stands for quality, and as long-term fans, we know we're in great hands. Having spent three intense years working with my brilliant team of collaborators on the most complex charismatic character, Diego Maradona, I'm excited to see how the North American audience reacts. I hope this is the beginning of a long journey together with HBO and Diego."
Diego Maradona is an HBO Sports presentation in association with On The Corner and Lorton Entertainment. James Gay-Rees and Paul Martin produced, and George Pank, Will Clarke, Julian Bird and Bil Bungay served as executive producers alongside Kapadia, with Nelson and Bill Simmons.
Cinetic Media negotiated the deal on the behalf of the filmmakers.