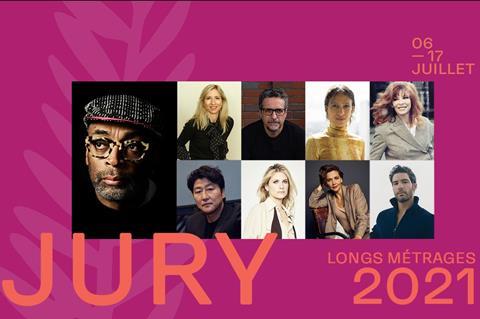 The Cannes Film Festival has unveiled the main Competition jury for its 74th edition which runs July 6-17.
For the second time in the festival's history, female jury members will be in the majority with five women and three men due to join previously announced jury president Spike Lee. In 2018, when Cate Blanchett was jury president, the split was also five women and four men.
This year's female jury members comprise French-Senegalese filmmaker Mati Diop, Canadian-French singer/songwriter Mylène Farmer, US actress, producer and director Maggie Gyllenhaal, Austrian director/producer Jessica Hausner and French actress/filmmaker Mélanie Laurent.
They are joined by Brazilian director/producer Kleber Mendonça Filho, actor Tahar Rahim and South Korean actor Song Kang-ho.
Diop, who lives between Paris and Dakar, world premiered her debut feature Atlantics in Competition at the festival in 2019, winning the Grand Prix.
Quebec-born Farmer is one of the world's best-selling French-language performers having sold more than 30 million records over the course of her 35-year career. She has also collaborated with numerous Cannes regulars over the years including Darius Khondji, Abel Ferrara and Agusti Villaronga.
Gyllenhaal's official selection credits comprise John Waters' Cecil B. Demented, which played Out of Competition in 2000. The Oscar-nominated actress broke into producing with The Kindergarten Teacher in 2018 and has recently directed her first feature film, The Lost Daughter.
Austria's Jessica Hausner has played in Un Certain Regard three times with Lovely Rita (2001), Hotel (2004) and Amour Fou (2014) Her fifth feature and first English-language production Little Joe premiered in Competition in 2019, where it won the best actress award for Emily Beecham.
Laurent has starred in more than 40 features, including Quentin Tarantino's 2009 Palme d'Or contender Inglourious Basterds. Over the past decade, she has also broken into directing with The Adopted (2011), Breathe (which premiered in Critics' Week in 2014) and Galveston (2018).
Brazilian filmmaker Mendonça Filho's second feature Aquarius was a Palme d'Or contender in 2016 and he returned to Competition in 2019 with Bacurau.
Rahim has been a regular on the Cannes red carpet ever since his breakout performance in Jacques Audiard's A Prophet, returning in films such as Asghar Farhadi's The Past and Rebecca Zlotowski's Grand Central. His international profile has skyrocketed over the past year following his critically acclaimed performances in TV mini-series The Serpent and Kevin Macdonald's The Mauritanian.
Prolific South Korean actor Song is another Cannes regular, attending most recently with Bong Joon-ho's Palme d'Or and Oscar-winning Parasite in 2019.