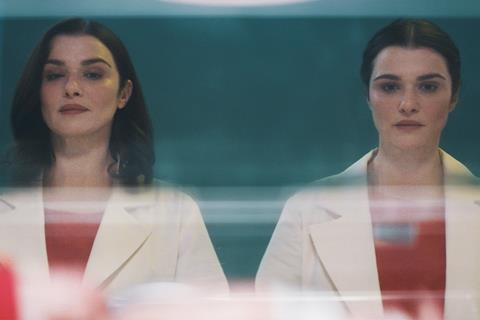 Canneseries has lined up world premieres of series such as Silo, Dead Ringers, Fatal Attraction and Tapie for its sixth edition which runs parallel with MipTV from April 14-19.
Artistic director Albin Lewi highlighted the "massive presence of American series world premiering this year" including festival opener Silo produced for Apple TV+ by AMC Studios.
Stars Rebecca Ferguson, Morten Tyldum and Graham Yost will be at Canneseries for the world premiere of Silo, a dystopian tale that follows the last 10,000 people on earth.
The festival closes with episodes from the fifth and final season of Prime Video's The Marvelous Mrs. Maisel.
Also premiering out of competition is Paramount+ Fatal Attraction, the modern adaptation of the eponymous 1987 film in which Joshua Jackson and Lizzy Caplan reprise the iconic roles of Michael Douglas and Glenn Close.
Netflix French-language original Tapie about the meteoric rise and fall of one of France's most iconic and controversial public figures in history, Bernard Tapie, plays in competition.
Prime Video will compete with Dead Ringers, a feminist take on David Cronenberg's cult classic starring Rachel Weisz from showrunner Alice Birch (Normal People).
Paramount+ brings South Korean crime thriller series Bargain that follows a group of characters trapped inside a remote motel after an earthquake. The show is part of the streamer's strategic partnership with Seoul-based content company CJ ENM.
South African extreme sports action drama Spinners will be the first-ever African series in competition at the Festival. The Showmax and Canal+ original produced by Joachim Landau and Raphael Rocher of Federation Studios' Empreinte Digital and sold by Studiocanal was created by Landau and Benjamin Hoffman and directed by Jaco Bouwer.
Israeli comedian Reshef Levi will be back on the festival's pink carpet after premiering Neshama there in 2019. Carthago, based on a little known period in history and inspired by his own father, depicts the British mandate that saw Jewish fighters in WWII deported to Africa.
Also from Israel is Curduroy from indie filmmaker Hadas Ben Aroya (All Eyes Off Me), produced by Banijay's MoviePlus Productions for HOT described as "an anti-love story" that "turns a typical romance on its head" about a new generation of relationships.
Norway's Power Play from NRK is a political comedy about a female politician climbing the ranks of government. From Denmark, DR Drama's Prisoner from Kim by Fupz Aakeson (Cry Wolf, Utmark) brings viewers into daily life inside of an old, worn-down Danish prison from the perspective of officers working there.
Dutch series Childhood Dreams is the first series produced by Topkapi, known for their features like Lukas Dhont's Close and tells the story of four kids from a Dutch rural family fighting for their freedom against the backdrop of the impetuous developments in the past fifty years.
Rounding out the competition is Canadian dramatic comedy Bon Matin Chuck (Ou L'Art de Reduire Les Méfaits), a 10-part series about the beloved host of a morning show who checks himself into a rehab group to deal with his addiction.
Talent and highlights
Israeli actor Lior Raz (Fauda, Hit & Run) will preside over the international competition jury.
New this year will be a full documentary series competition with six series vying for the top prize and a jury presided by Oscar-winning British filmmaker Asif Kapadia (Amy).
On the business side, Canneseries is taking a "less is more" approach. The Canneseries x MIP Connection program, now in its second edition, will bring together "the top 50 executives in the industry in the world who matter" says Lewi for round tables, cocktails and networking events.
"We're taking the opposite approach to Mipcom and other markets," Lewi explained. Unlike last Fall's supersized Mipcom market with an action-packed program and time for only rushed rendez-vous, "we're bringing together top creatives and decision-makers for tailored sessions. Two days together isn't the same as a quick 15-minute meeting."
Among execs participating this year from across the globe are Head of Development at Drama Republic Chloé Beeson, Head of Canal+ Creation Originale Olivier Bibas, EVP of Mediawan Pictures Elisabeth d'Arvieu, President of Gaumont Television France Isabelle Degeorges, EVP Fiction at RTL Deutschland Hauke Barte, Annapurna Pictures' Ali Krug and Sky Studios' Director of Original Drama UK and Ireland Meghan Lyvers.
"Six years ago, people thought we were crazy to launch a festival in Cannes devoted to series," Lewi said. Today, "To be recognized by major American platforms and talent is priceless," he said.
Canneseries International Competition

Bargain (S Kor), International Premiere
Bon Matin Chuck (Ou L'art De Réduire Les Méfaits (Can), World Premiere
Carthago (Isr), International Premiere
Childhood Dreams (Neth), World Premiere
Curduroy (Isr), International Premiere
Dead Ringers (US), World Premiere
Power Play (Nor), World Premiere
Prisoner (Den), World Premiere
Spinners (S Afr), World Premiere
Tapie (Fr), World Premiere