EXCLUSIVE: First image from space-based military thriller from debut director Andrew Martin.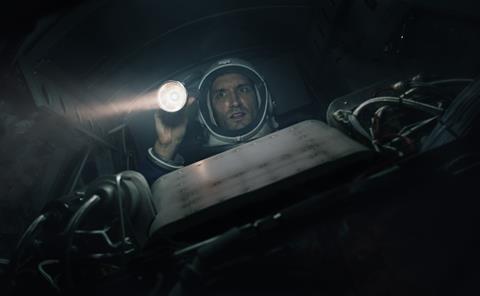 Edmund Kingsley has taken the lead role in Capsule, the debut feature of writer-director Andrew Martin. The film is made by Ecaveo Capital Partners and Entitled Productions in association with Blue Pencil Set.
Kingsley plays Guy, a fighter pilot in command of Britain's first manned mission to space. But after three years of training at the height of the Cold War, he finds himself alone in space with a malfunctioning capsule. He has limited contact with the UK, unusual communication with the US and unorthodox communication with Soviet Russia.
Joining Kingsley in the cast is Lisa Greenwood and Joseph Baird. A purpose-built, state-of-the-art space capsule has been constructed by production, with all filming done on-site in Essex.
Martin was previously a model maker and special effects technician, working on films including Lara Croft Tomb Raider: The Cradle of Life, before spending five years as a director of photography on films including The Devil Wears Red.
Kingsley, son of Oscar-winning actor Sir Ben Kingsley, said of Capsule: "I was really taken by how grounded everything was in the reality of 1959 – the story is extraordinary but it's also plausible, taking existing technology and geopolitics and then just pushing it a little further."
Martin described the film as "one of the biggest and most daunting challenges that I have faced so far in my career".
He added that, along with DoP Felix Forrest, they invented "new ways of using rear projection and camera trickery to create some awe inspiring visuals".
Filming began in August 2014 and continues in Essex and London until mid-October. A theatrical release is expected in 2015.
Capsule is produced by Paul D Forrest and executive produced by Mohammed Patel, Omar Qamar, Stuart Wilkins and Waseem Zaman.