It's another Disney one-two at the top as The Jungle Book posts impressive $8.4m (£5.7m) third weekend for $49m (£33.2m) to date.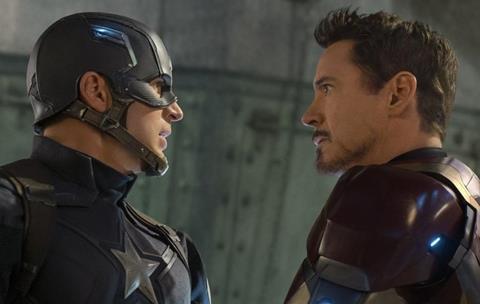 UK TOP FIVE
| Ranking | Film/Distributor | Weekend gross | Running total (as of May 2) |
| --- | --- | --- | --- |
| 1 | Captain America: Civil War (Disney) | $21.2m (£14.4m) | $28.1m (£19m) |
| 2 | The Jungle Book (Disney) | $8.4m (£5.7m) | $49m (£33.2m) |
| 3 | Eye In The Sky (eOne) | $774,000 (£524,416) | $4.9m (£3.35m) |
| 4 | Zootropolis (Disney) | $751,000 (£509,000) | $33.4m (£22.6m) |
| 5 | Bastille Day (Studiocanal) | $490,000 (£334,449) | $2.4m (£1.62m) |
DISNEY
Captain America: Civil War led the Disney domination of the bank holiday weekend at the UK box office.
Marvel's latest fought to a muscular $21.2m (£14.4m) bow from its 600 sites over Fri-Sun, with a further $6.8m (£4.6m) added yesterday [May 2] to lift it to $28.1m (£19m) already.
Officially, it won't have the four-day opening record for a superhero film, but it's made more than the $26.6m (£18.02m) that both Avengers: Age Of Ultron and Batman v Superman pulled in.
Civil War's official $21.2m (£14.4m) debut will go down as the third-best Marvel bow in the UK, behind both Avengers outings. Based solely on Fri-Sun takings though, it's ahead of Avengers Assemble and on par with Age Of Ultron.
Earlier this year, Batman v Superman achieved the biggest ever Fri-Sun tally for a superhero film at $21.6m (£14.62m), largely thanks to opening over Easter. Civil War might have narrowly missed out, but will likely overtake BvS in the long run.
Also for Disney, The Jungle Book continued its extraordinary run by dropping only 29% for a $8.4m (£5.7m) third weekend.
Jon Favreau's live-action remake swung to a further $4.4m (£3m) on Monday to lift its UK haul to an incredible $49m (£33.2m) after 18 days in play. £40m is now a certainty.
Zootropolis hopped to an extra $751,000 (£509,000) over Fri-Sun, with $635,000 (£430,000) grossed yesterday taking it to $33.4m (£22.6m).
Disney enjoyed a 1-2-3 in the market on Saturday, Sunday and Monday.
EONE
Eye In The Sky enjoyed a sturdy hold in its third weekend with a drop of around 35%.
eOne's thriller pulled in $774,000 (£524,416) for $4.9m (£3.35m) to date and, as expected, is now director Gavin Hood's best UK performer outside of X-Men Origins: Wolverine.
STUDIOCANAL
Rounding off the top five was Bastille Day as it fell more than 45% (excluding previews) on its way to a $490,000 (£334,449) second weekend.
Studiocanal's action-thriller is up to $2.4m (£1.62m) as of Monday.
FOX
Opening against Civil War was always going to be tricky and so it proved for Fox's Demolition.
Jean-Marc Vallée's latest posted a $390,000 (£264,248) debut, including previews, from its 204 sites, boosted to a non-final $504,000 (£341,468) as of Monday.
That's significantly down on the £1m+ bows of Dallas Buyers Club and The Young Victoria, and below Wild's $775,000 (£524,941) debut from 293 sites, including $164,000 (£111,315) in previews.
Also for Fox, Alvin And The Chipmunks: The Road Chip and Kung Fu Panda 3 have amassed $24.4m (£16.51m) and $20.1m (£13.61m), respectively.
WARNER BROS
Falling almost 50% (excluding previews), Warner Bros' Friend Request could only scare up a $372,000 (£252,000) second weekend for $1.8m (£1.2m) to date.
Also for Warner Bros, Batman v Superman: Dawn Of Justice stands at $53.9m (£36.5m) following a $159,000 (£108,000) sixth weekend.
CURZON ARTIFICIAL EYE
Oscar winner Son Of Saul is off to a promising start at the UK box office.
Curzon Artificial Eye's drama (released through Lionsgate) posted a $264,000 (£178,617) debut, including previews, from its 55 sites, marking a healthy site average of $4,795 (£3,248).
As of Monday, Son Of Saul stands at a non-final $335,000 (£226,646) and should prosper mid-week as the main arthouse draw.
LIONSGATE
Now in its fifth week, Lionsgate's Eddie The Eagle flew to a further $229,000 (£154,847) for a strong $12.4m (£8.42m) to date.
Also for Lionsgate, Ratchet And Clank (released on behalf of Vertigo Films) posted a disappointing UK bow of $218,000 (£147,722) from its 379 sites.
UNIVERSAL
After four weeks in play, Universal's The Huntsman: Winter's War stands at $7.7m (£5.21m) following a $112,000 (£76,109) weekend.
ICON FILM DISTRIBUTION
In its second weekend, Icon Film Distribution's Miles Ahead took $83,000 (£56,076) for $522,000 (£353,321) to date.
UPCOMING RELEASES
This week sees saturation releases for Universal's Bad Neighbours 2, Studiocanal's Robinson Crusoe and Fox/Pathe's Florence Foster Jenkins.
Sony's I Saw The Light receives a wide release, while Studiocanal's Knight Of Cups, The Works' These Final Hours and Metrodome's Evolution are among the films receiving a limited release.