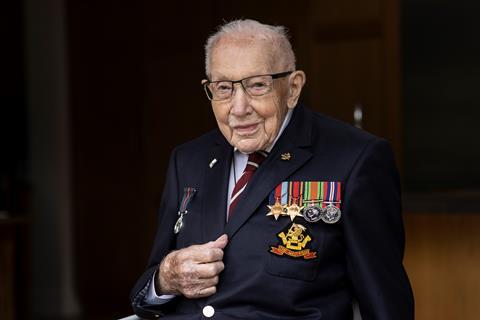 The late UK army captain and charity fundraiser Captain Sir Tom Moore will be the subject of a new biopic from the writers of Fisherman's Friends and the director of Finding Your Feet.
Nick Moorcroft and Meg Leonard, who also wrote Finding Your Feet and Blithe Spirit, have written the script for the as-yet-untitled feature, which Richard Loncraine will direct.
The production is targeting an autumn shoot in the UK, Thailand and Barbados; UK firm Circus Studios is financing the project and has boarded sales, which it is launching this week in Cannes.
The film will be produced by Flying Fish, with Circus' James Spring, plus Moorcroft and Leonard serving as producers.
It will draw on Moore's childhood in Yorkshire, his military career and his fundraising efforts, which saw him raise £38.9m through walks around the garden at his retirement home in the run-up to his 100th birthday.
Moore broke two Guinness World Records, achieved a number one single with 'You'll Never Walk Alone' and was knighted by Queen Elizabeth II. He died on February 2, 2021 aged 100.
"With his motto 'Tomorrow Will Be A Good Day', Captain Tom inspired us to adapt his unique and inspirational life story for the screen," said Moorcroft and Leonard. "We cannot wait for audiences to get to know the side of the man and his story that they have never seen or heard before."
The film "will explore how his strength, wisdom, and humour brought a family together and motivated him to raise money for the National Health Service who he credited with saving his life," said Loncraine.
"Captain Tom's story struck chord not just in the UK, but in over 160 countries. His life, his achievements and his legacy will entertain, move, and inspire cinema audiences the world over," said Circus Studios' James Scott.