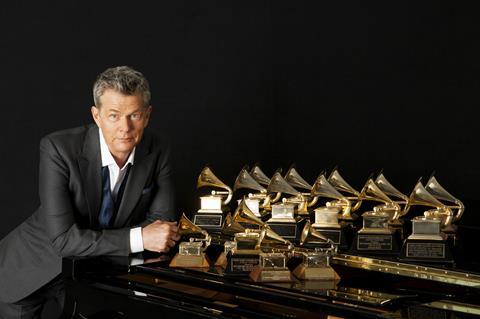 Toronto International Film Festival (TIFF) will host the world premiere of documentary David Foster: Off the Record followed by a TIFF Tribute Gala honour for the Oscar-nominated producer and Celine Dion and Barbra Streisand collaborator in September.
Barry Avrich (The Last Mogul, Prosecuting Evil: The Extraordinary World Of Ben Ferencz) directed the documentary, which combines rare archival footage, and interviews with Foster and music industry figures.
The Victoria, British Columbia–born musician, producer, songwriter, and composer has earned three Oscar nods for best original song including 'I Have Nothing' from The Bodyguard, and has won 16 Grammy Awards, an Emmy, and shared a Golden Globe for best original song Quest For Camelot in 1999. His film score credits include St. Elmo's Fire.
Over the course of a hit-making career Foster has collaborated with the likes of Chicago, Lionel Richie, Quincy Jones, Clive Davis, Kristin Chenoweth, Michael Bublé, Josh Groban, and Streisand and Dion.
TIFF co-head and executive director Joana Vicente called Foster a "global musical genius" who has "left his mark on some of the most timeless songs of today while discovering and launching the careers of the industry's most talented artists."
Bell Media president Randy Lennox produced David Foster: Off the Record alongside Caitlin Cheddie, and Avrich, with Lennox, Avrich, Jeffrey Latimer, and Marc Johnston serving as executive producers.
TIFF previously announced that Meryl Streep will receive the TIFF Tribute Actor Award and Participant Media will receive the TIFF Impact Award at the Gala, which takes place on September 9. The 44th Toronto International Film Festival runs from September 5–15.