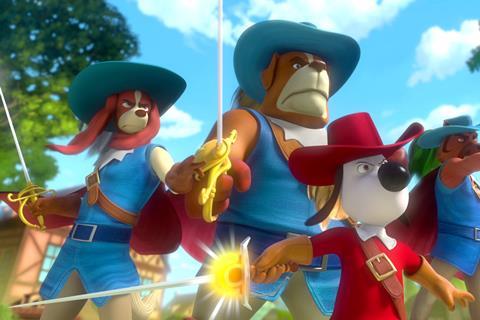 Charades has boarded sales on Dogtanian And The Three Muskehounds, a family-focused feature animation inspired by Alexandre Dumas' 19th-century classic swashbuckling D'Artagnan trilogy.
The Paris-based sales company has a strong track record in selling feature animations, having previously handled The Queen's Corgi and Bigfoot Superstar as well as Academy Award nominees Mirai and I Lost My Body.
This new animation sales acquisition reboots the popular Dogtanian children's series which first launched in Japan in the 1980s and went on to air in some 100 territories, on 150 networks worldwide. In this new iteration, Dogtanian is an impetuous young boy who heads to Paris to chase his dream of joining the king's 'muskehounds' guards.
It is produced by the Spanish studio Apolo Films as well as Singapore and India-based animation company Cosmo Maya.
Spanish distributor A Contracorriente Films, which previously released Ballerina and Bigfoot Superstar, will release Dogtanian and the three Muskehounds in Spain on 250 screens on January 22, 2020. Lusomundo has taken Portuguese rights.
"In those particular times, it's a blessing for us to be able to launch an ambitious $10m 3D animation. With A Contracorriente as the local distributor, the appeal of known IP, the opportunity to release the film soon, Dogtanian is as timely as suited for today's very special market," said Charades co-chief Yohann Comte.