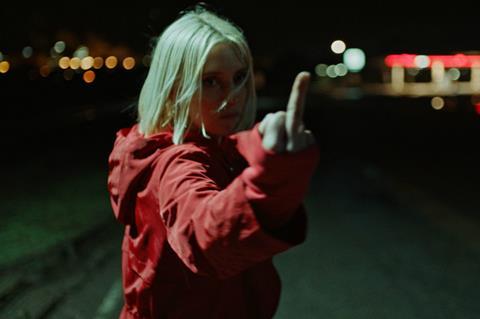 Paris-based sales company Charades has unveiled a slew of international sales on French director Vincent Paronnaud's horror-thriller Hunted, ahead of its screening in competition at the Sitges International Film Festival today (October 15).
AMC Network's genre-focused streaming service Shudder has acquired the title for the UK, US, Canada and Australia. In another multi-territory deal Berlin-based Pandastorm has taken rights for Switzerland, Austria and Germany.
Other regional deals include all of Scandinavia (Njuta); the Baltics and CIS (World Pictures) and Lebanon and the Gulf (Gulf Film). It has also sold to South Korea (Pancinema), Taiwan (Catchplay) and India (Empire Kavi)
The thriller is the English-language debut of comic book artist Paronnaud, who previously co-directed award-winning 2007 feature animation Persopolis with Marjane Satrapi.
Belgian actress Lucie Debay stars as a woman caught in a deadly cat-and-mouse game in a remote forest after she is abducted by an attractive man (Arieh Worthalter) she meets at a club and his creepy accomplice (Ciaran O'Brien).
The film premiered to strong reviews at the Fantasia Festival in Montreal in August and has since been invited to a slew of mainly fantasy and genre-focused festivals including the L'Étrange Festival in Paris, the Brussels International Film Festival and Austria's Slash Film Festival.
Aside from Sitges, the title is also playing in Rome's MIA market this week.
Hunted is among a number of genre titles on Charades' wide-ranging slate, which also includes festival fare such as The Macaluso Sisters.
Earlier this week, the company also unveiled a slew of deals on UK director Rob Savage's zeitgeisty, Zoom-set horror film Host, which also plays at Sitges this week.